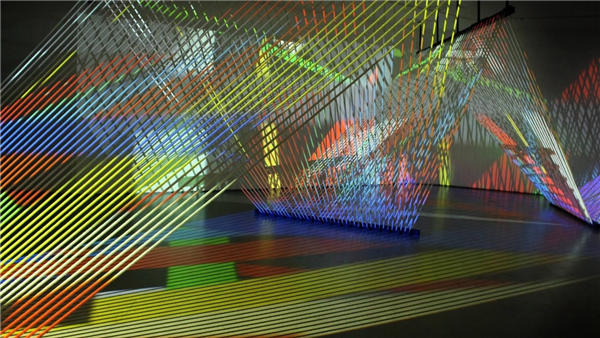 [Photo/CGTN]
The Lumen Prize, a global award and tour for digital art, is holding its first show in Beijing, at the Today Art Museum. The exhibition, entitled Lumen Matrix, features nearly 20 artworks including still images, installations, and VR works.
Type a Chinese character, and a robot writes it on the sand in an installation called Sand Letter that is dedicated to a "slow tempo" life experience.
The exhibition is full of works like this that encourage interaction. When you approach a dark pond in the Today Art Museum, you will see plastic debris appear and float. This installation called Plastic Reflectic, by Dutch artist Thijs Biersteker, won the 2017 Lumen Prize Gold Award.
It is made up of 601 pieces of plastic waste collected from oceans in different parts of the world. Waste that was once cast out to sea is brought to the feet of visitors, compelling them to rethink the relationship between humans and nature.