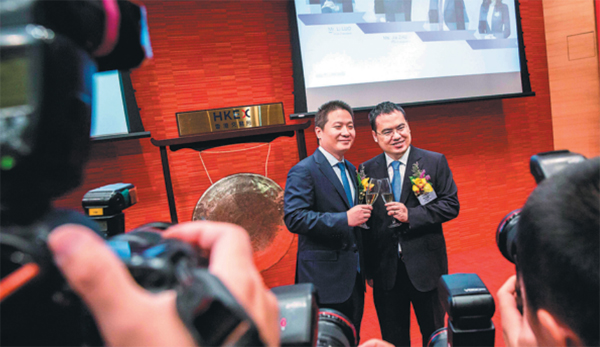 China Literature co-CEOs Liang Xiaodong (center left) and Wu Wenhui (center right) pose for photos at the company's initial public offering on the Hong Kong Stock Exchange on Nov 8. [Photo/Agencies]
China Literature's open platform enables developers to include its content on their apps, which will create new revenue streams. So far, it has partnerships with nearly 50 e-book platforms, including Baidu and JD.com.
The company has also launched a multi-language site to translate some of the most successful online novels in China for overseas readers. It aims to take its multibillion-yuan business globally.
As the online entertainment ecosystem continues to mature, there are huge possibilities out there in cyberspace.
During the past two years, China Literature has sold the rights of authorized online novels to companies that are part of its 100-strong client base. Many have been made into movies, TV dramas and online games.
This synergy across different entertaining platforms has prompted Baidu and Alibaba to expand into the online literary business, as they try to catch up with rival Tencent.
The plan is to share online content and develop quality IPs or copyrighted material.
"The internet not only works simply as a medium but also appears fashionable and trendy," said Dong of the literary division at iQiyi.
"With more than 300 million users who love reading digital literature, the market is worth 10 billion yuan in China and will boost more pan-entertainment industries," Dong added.