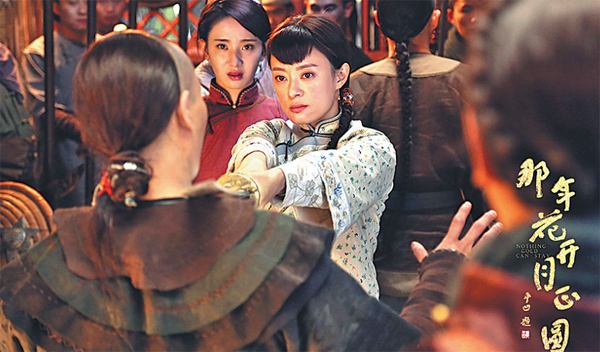 A poster of the TV series Nothing Gold Can Stay, adapted from an online story. [Photo provided to China Daily]
"Before, the majority of internet users preferred to pay for real items," said Xue Yongfeng, an analyst at internet consultancy Analysys in Beijing.
"But with an increase in average incomes, more Chinese are willing to pay for content, such as reading online novels, watching online videos or listening to online music," he added.
Naturally, this has attracted the attention of the three major internet players, Baidu Inc, Alibaba Group Holding Ltd and Tencent Holdings Ltd, or BAT. The trio have invested heavily in entertainment, betting big on China's booming markets.
Already e-commerce giant Tencent has spun off its online literary arm, China Literature Ltd.
It listed the e-book publisher on the Hong Kong Stock Exchange in November, with its share price jumping more than 86 percent to HK$102($13) on its debut.
This was the largest global first-day gain for an initial public offering this year.
"Supported by the mobile internet and a number of digital technologies, reading is no longer confined by the limits of time and space," said Zhu Jing, vice-president of e-book publisher China Literature. "We are now entering a brand new age that embraces the online reading trend."
Founded in 2015, the online publishing subsidiary has 6.4 million writers on its books and 9.6 million literary works by the end of June.
China Literature also has 191.8 million monthly active users across its platforms and channels.
Last year, the company announced that revenue reached 2.6 billion yuan ($378 million), up 59.1 percent from the previous year.
It also saw a significant jump in gross profit to 1.1 billion yuan during the same period, an 81.7 percent year-on-year increase.
"We are building an international open platform aimed at offering better user experiences as we seek new momentum in key markets," Zhu said.