Fine cuisine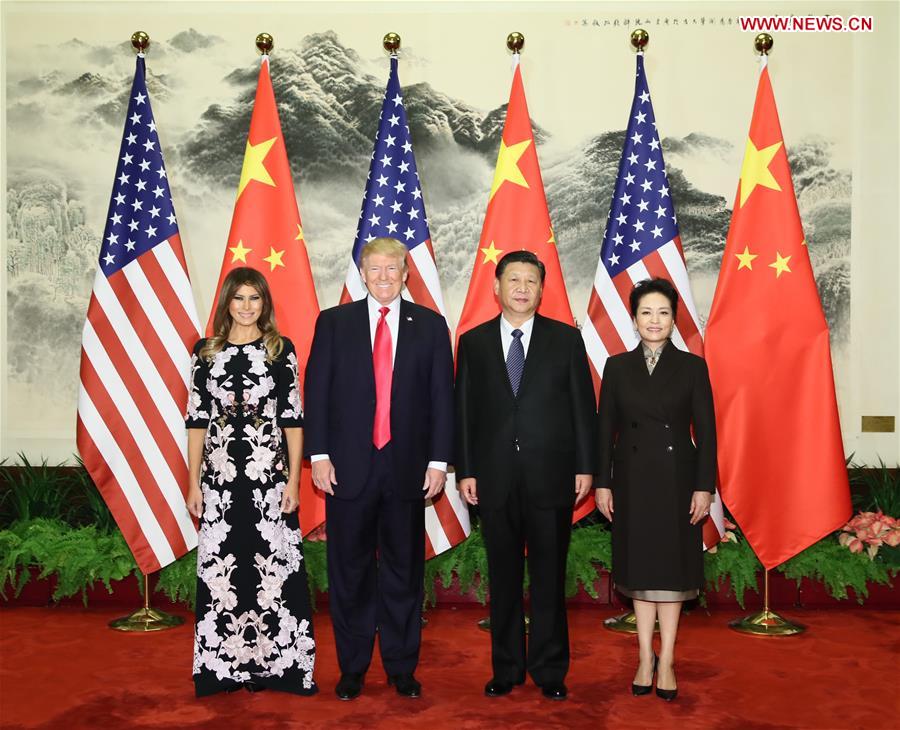 President Xi Jinping (2nd R) and his wife Peng Liyuan (1st R), and US President Donald Trump (2nd L) and his wife Melania Trump pose for group photos at the Great Hall of the People in Beijing, capital of China, Nov 9, 2017. [Photo/Xinhua]
Delicate Chinese cuisine and popular Western dishes made a great mix for the menu at the State Banquet at the Great Hall of the People on Thursday evening.
Among the five hot dishes served, Kung Pao Chicken caught the eyes of the guests as the Chinese dish is also popular in Chinese restaurants in the United States.
Coconut-flavored chicken soup showed the evolving side of Chinese food, while stewed beef steak in tomato sauce and seafood chowder expressed elements of Western cuisine.
As the banquet started, all the guests had their attention caught by a video aired on the giant LED screens at the front.
The new video, of about six minutes and 30 seconds, collected moments of the three key interactions between Xi and Trump - in April at the Mar-a-Lago resort in Florida; in July in Hamburg, Germany; and the Trumps' visit to Beijing starting on Wednesday.
Trump's granddaughter Arabella Kushner appeared twice in the video, speaking in fluent Chinese at Mar-a-Lago and in a recent video message sent to Xi.
Footage from the two first ladies' visiting a local elementary school in Beijing earlier on Thursday was also included.
Contact the writer at zhangyunbi@chinadaily.com.cn