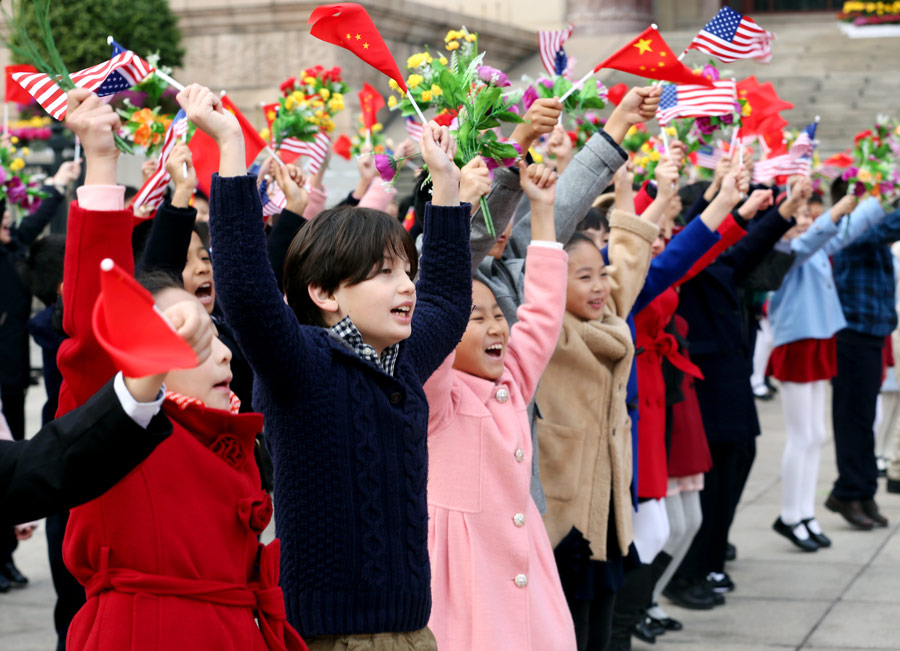 Children from China and the United States participate in the welcoming ceremony. WU ZHIYI/CHINA DAILY
International welcome
A group of Chinese elementary school students is usually invited to take part in welcoming ceremonies hosted by President Xi for foreign leaders on state visits to China, at the square outside the East Gate of the Great Hall of the People.
Thursday's ceremony reflected the special arrangements being made for Trump's visit, with 10 US schoolchildren joining their Chinese counterparts next to the military band greeting Xi and Trump.
As the two leaders walked by, they stepped up to the children and greeted them.
The music played by the People's Liberation Army Band included special arrangements for the visiting top US leader.
After Xi and Trump examined the PLA honor guard, the band played the US march The Stars and Stripes Forever, composed by John Philip Sousa. It is the national march of the United States.
A tie to celebrate ties
The US presidential couple wore carefully prepared outfits at the welcoming ceremony on Thursday morning, with Trump sporting a red tie, a point that was quickly noticed by the Chinese media.
Many reports said the tie was "China red", as the color is traditionally regarded as auspicious in China
Melania Trump, the US first lady, wore a long black and white dress with floral motifs.
The US leader has several times expressed his appreciation for China's great hospitality on his state visit to the country.
He pledged to work even harder to strengthen US ties with China when addressing journalists alongside President Xi on Thursday.
"Melania and I are honored to visit your country, with its ancient history, dynamic people and thriving culture," Trump said.
He also expressed appreciation to Xi and his wife, Peng Liyuan, for the tour the visiting couple received on Wednesday of "the very majestic Forbidden City", also known as the Palace Museum.
"In the coming months and years, I look forward to building an even stronger relationship between our two countries - China and the United States of America - and even closer friendships and relationships between the people of our two countries," Trump told reporters.