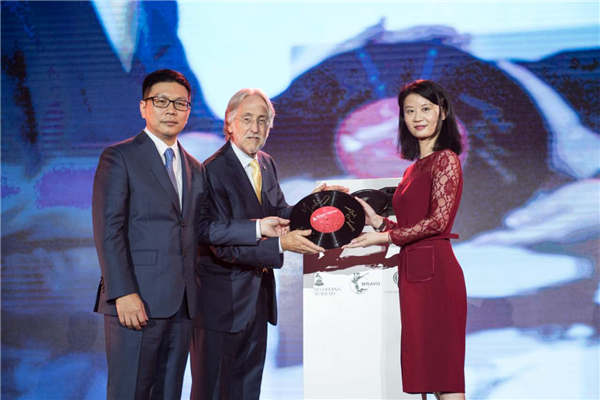 Neil Portnow (center), chairman and CEO of Recording Academy, and Steven Fock (left), CEO of Bravo Entertainment, attend the Beijing event to announce the launch of the Grammy Festival China. [Photo provided to China Daily]
"My philosophy about something like that is to find wine in its time," he says, adding that the more important thing was to make the festival work out well.
The idea of bringing such a festival to China came in 2008 when Portnow was preparing for the Grammys' 50th anniversary. He says he wanted to do classical music and jazz for the show.
"We don't always do that. But 50th was a big anniversary, so we wanted to do something different," says Portnow, a fan of both classical music and jazz.
He found two interesting pianists among that year's nominees-legendary jazz musician Herbie Hancock and Lang Lang, a popular Chinese classical musician.
"So I talked to Ken Ehrlich, producer and director of the Grammys (in 2008), to discuss how we could combine them," Portnow recalls.
Accompanied by a full orchestra, Hancock and Lang Lang-four hands together-played George Gershwin's repertoire Rhapsody in Blue, with beguiling flair, setting the stage for the fireworks that concluded the show on Feb 10, 2008.
The awards also got the Chinese pianist named as the official ambassador of the Grammys in China.
Lang Lang invited Portnow to watch the 2008 Summer Olympics in Beijing and introduced him to some key people in the Ministry of Culture and the Ministry of Education and musicians, including Yu Long, who is arguably the best-known Chinese conductor in the West.
"We talked about China, music and found (that) we share the same values to bridge cultures," says Portnow.
"Because (Chinese) culture is quite different, it seems for us that it's important to do cultural exchanges, not just for the Grammys but for society and for people to find ways to build bridges. So we started to think about how we could do something here."