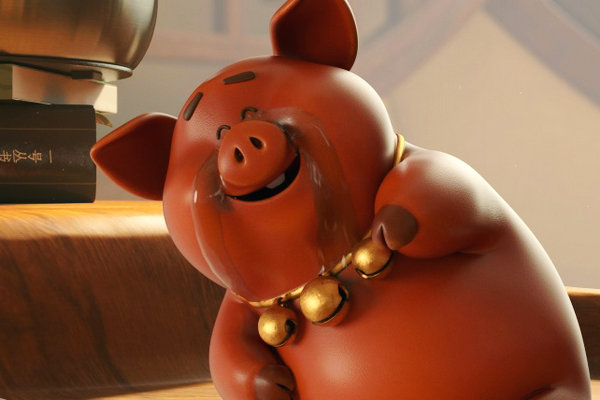 A pig tea pet in the movie Tea Pets. [Photo/Mtime]
 Pig
In traditional Chinese culture, pigs are a symbol of riches. Many Chinese women want to have a baby born in the Year of the Pig to give the child a blessing of a fortunate future. Tea pets in the form of pigs are also cute and loveable.
Buddha
Tea pets in forms of Maitreya Buddha are the most common ones. The Buddha always smiles and in many Buddhist texts, he stands for happiness and can also bless people. Other animal figures, such as lions and rhinos, are also popular tea pets.
 How to raise a tea pet
Like purple clay tea pots, long period of usage can add value to a tea pet. Pu'er tea is the best choice to raise a tea pet. Here are other tips about raising tea pets.
1. The best way to raise a tea pet is to brush it with the fresh tea you are drinking. You can also pour tea on it, as long as it is freshly made.
2. Only use one kind of tea to pour on a tea pet, rather than many kinds.
3. Oolong, such as Tie Guanyin, and green tea are better choices to raise a tea pet apart from Pu'er tea.