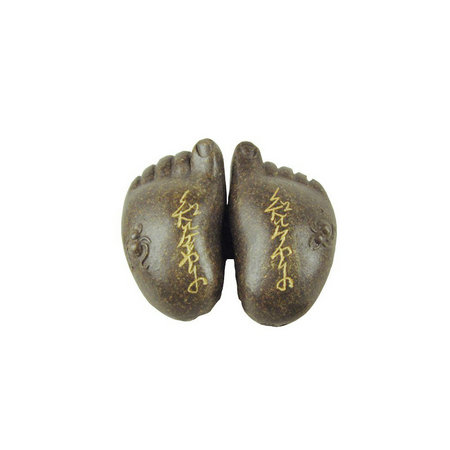 A pair of littel foot tea pets. [File photo]
Little foot with a spider
In the shape of a little fat foot with a spider on it, this tea pet might look weird to non-Chinese speakers. In Chinese language, spider is zhi zhu and foot zu. When the two pronunciations are combined, it would be a homophone for "satisfied" in Chinese. The tea pet is designed to remind people of having a satisfied attitude towards life and being grateful for every little gain.
Elephant
Water, in traditional Chinese culture, represents fortune. Since elephants are good at using their long nose to suck water, tea pets in the form of elephants are also many tea lovers' first choice. Chinese people believe in fengshui also considered elephants mild and nice creatures that can bless all the members of a family.
Fairy children
Fairy children symbolize good fortune and happiness in Chinese myths. With chubby, smiling faces and an air of innocence, a fairy boy and a fairy girl are often sculptured together as a tea pet.