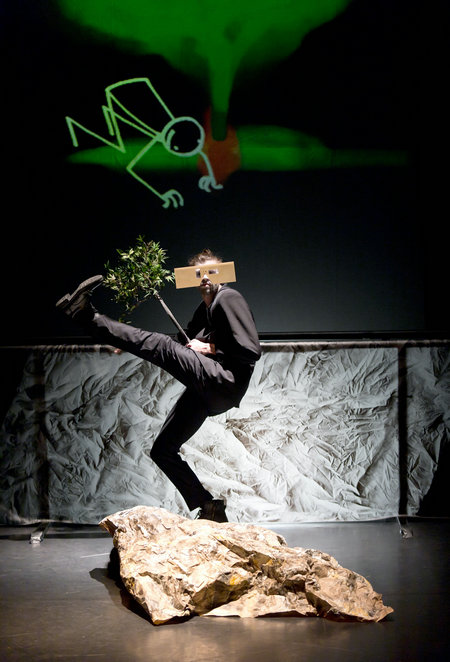 Seed (Back to the Land) aims to raise people's awareness on environmental issues. [Photo provided to China Daily]
Defining herself as a "water lady", she says that water is her favorite theme since she grew up near the Pacific Ocean, lived in Venice surrounded by water, and now she lives in Paris, where you find the Seine.
She also calls herself a nomad, who travels a lot and lives in many places, such as New York, Paris, Venice and Helsinki.
Growing up with a strong art influence, such as playing the piano, painting, acting, dancing, she would stage small shows at home for the family at a young age. However, it was in 1965 when she started working with American choreographer Alwin Nikolais in New York that she realized she wanted to be an artist.
"He totally changed my perspective on dance. He was so creative, with his four principles about movement: time, space, shape and perpetual motion. Choreographing for him was not only a question of steps, but also lights, costume, music, set ... a total performance. And he also passed on his love for transmission to me. Creating and learning were deeply connected for him," says Carolyn Carlson, who was trained at the San Francisco School of Ballet and at Utah University.
Besides dance, she is also a poet and prefers the term "visual poetry" to "choreography" to describe her work, since poetry and synchronicity are the keywords to understand her art.
"I write what I can't dance and I dance what I can't write. And for my creations, I usually start by writing poems. I'm very inspired by everything that relates to paper actually, writing, reading, drawing," she says, adding that she cannot dissociate poetry and dance as they are deeply connected.
"My dance is strongly oriented toward philosophy and spirituality. I don't work with the technique or the steps, but with the heart. So every piece is a poem on its own. You give back to the public a poem without words."
Contact the writer at chennan@chinadaily.com.cn
If you go
7:30 pm, Saturday. Nanshan Cultural and Sports Center Theater, 2106 Nanshan Boulevard, Shenzhen, Guangdong. 400-610-3721. 2:30 pm and 7:30 pm,
Tuesday. Tianqiao Performing Arts Center, 9 Tianqiao South Street, Xicheng district, Beijing. 400-635-3355.