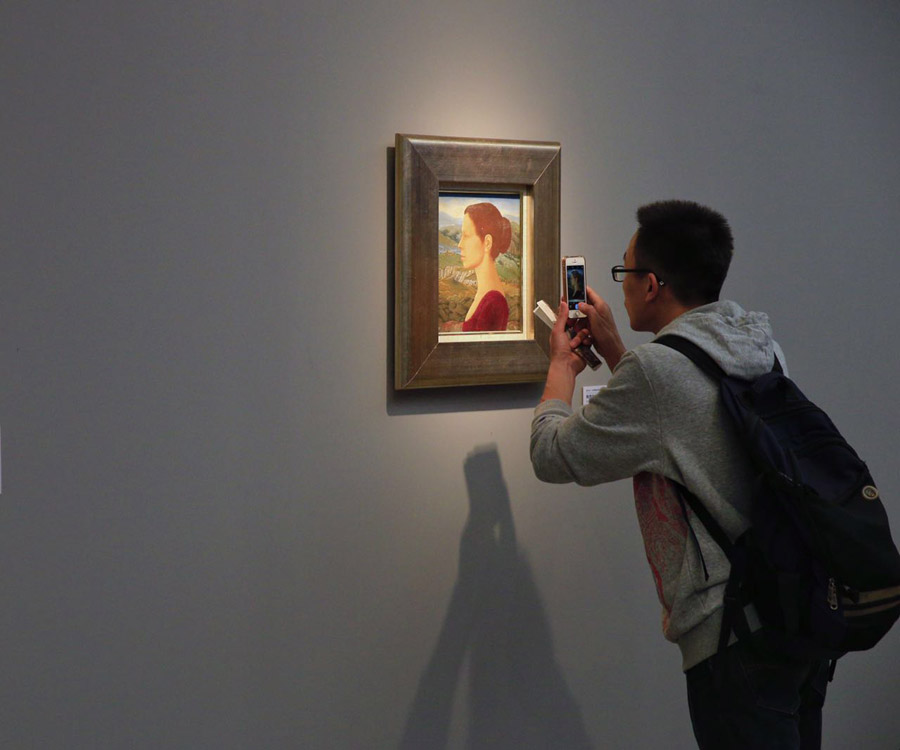 A visitor takes photos of a painting on display at the Voice of the Volga River exhibition at the National Art Museum of China in Beijing. [Photo by Jiang Dong/China Daily]
Wu says the characteristics of this generation of painters can also be found in 10 paintings on show, which come from a collection donated by the German collector couple Irene and Peter Ludwig in 1996.
Gao Teng, a retired magazine photographer in Beijing, says the exhibition deserves more than one visit.
He says he was impressed by Russian paintings when he visited Moscow last year. He stayed there for weeks to brush up on his oil painting skills.
During the trip, he also visited art colleges and galleries as part of his "pilgrimage to Russian fine art".
"Every day I went to the woods near where I lived, or the forests in the suburbs, to do sketches and paintings. I was engulfed by the tranquility of the land, and I could also feel that there was an underlying energy that could erupt at any time. This is the soil that produces artists of excellence."
Wu says that in Russian paintings one can feel the sentimental side that defines Eastern aesthetics and a poetic portrayal of country life.
"They (the paintings) harbor a love of the homeland, praise for laborers and the pursuit of what is kind and beautiful."
If you go
9 am-5 pm, closed on Mondays, through May 7. 1 Wusi Dajie, Dongcheng district, Beijing. 010-6400-1476.