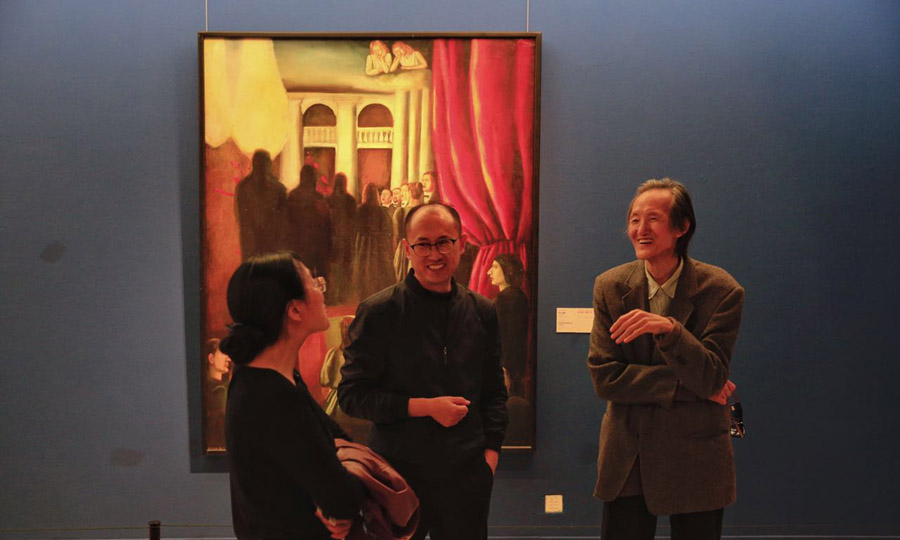 People visit the Voice of the Volga River exhibition at the National Art Museum of China in Beijing. [Photo by Jiang Dong/China Daily]
The first generation of the featured Russian artists were born in the 1920s and 1930s and experienced wars and were active in socialist work. They worked at art universities or government cultural institutions.
They painted with an optimistic and realistic style.
They focused on collective war memories, or landscapes of serenity and daily life, through which they dwelled on subjects like eternity.
Artists born in the 1940s and 1950s encountered systematic and strict discipline at art schools under the first generation. Unlike their teachers, these artists achieved artistic maturity during the transformation of the Soviet Union into the Russian Federation.
Wu says when this generation of painters approached realistic themes, they presented a more personal perspective and used symbolic images and metaphors. They also preferred to dwell on family relationships rather than historical events.
Those born in the 1960s touched on more extensive themes thanks to the impact of modernist movements in Europe and the United States. They communicate diverse values in a gesture that departs from the long-standing realism of Russian painting.