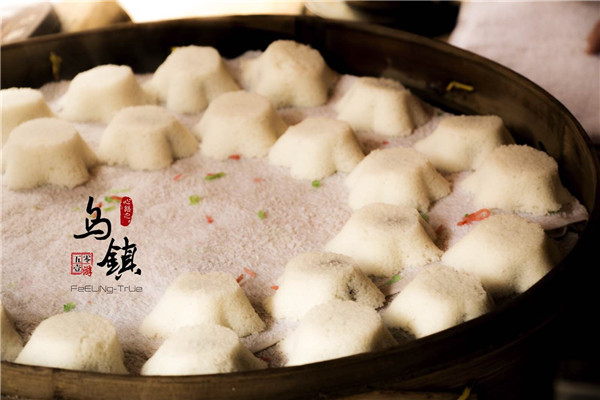 Dingsheng cake. [Photo/Weibo]
As an ancient water town, many of the traditional customs of China are preserved in Wuzhen, food is no exception.
Wuzhen provides a wide variety of delicacies to tourists from around the world, and its traditional dishes deserve to be mentioned. It is the combination of food and culture that makes Wuzhen cuisine stand out.
Locals have taken pride in study since ancient times. In the past, whenever students set out to take the imperial examination, their friends and relatives would use glutinous rice to prepare several steamers full of sweet, sticky dingsheng cakes to wish them success.
They rubbed tender leaves and grass shoots into glutinous rice powder to make fragrant green cakes called qingtuan. They also pickled stinky tofu for more than 20 hours before steaming or frying.
Chrysanthemum tea is a traditional drink in Wuzhen. Made from chrysanthemum, which can be used for medicinal purposes, the sweet, aromatic beverage has a strong, elegant aroma.
Its most famous specialty is braised lamb that is crispy, sweet and a little bit spicy. The best time to enjoy is after the winter solstice.
Then there is baishui fish, another local delicacy. For household dishes, there are the sauced chicken, braised pork with preserved vegetables, boiled crayfish and stir-fried shell fish, to name just a few.