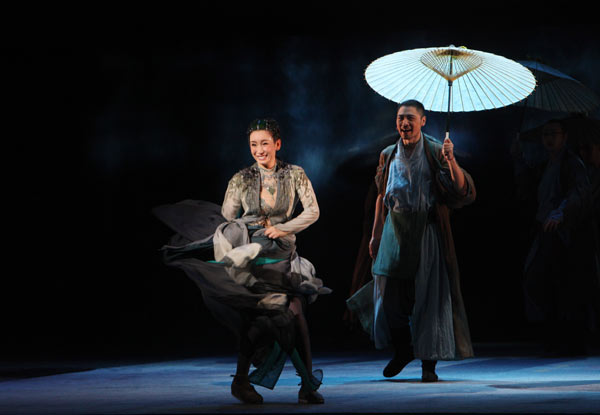 Green Snake, directed by Tian Qinxin, is a highlight of the Wuzhen Theater Festival this October. Photo provided to China Daily
The Wuzhen Theater Festival is set to bring some of the world's best experimental productions to the water town.
It is aiming to become China's answer to the Avignon or Edin-burgh festivals, building a base where drama enthusiasts can indulge in art and the exchange of ideas, and hopefully arrive back in reality with a clearer understanding of life.
As they say, the Wuzhen Theater Festival is beyond the ordinary.
Themed "metamorphoses", the second installment of the festival will begin mid-October and tap into the magic possibilities of transformation and experimentation.
It is set to open with one of China's most iconic plays, Tian Qinxin's Green Snake-a brave adaptation of the country's best known folklore, depicting the love between a human and a snake-turned-fairy.
The festival will end with an equally pioneering production from the United States' Good-man Theater based on the same story, The White Snake.
In between is a lineup of 50 unorthodox performances.
In addition to Chinese theater's most recent experimental outputs-1587, A Year of No Significance by Hong Kong's Zuni Icosahedron and Morning, Morning by Yang Chinghsiang and his drama troupe from Taipei-the festival is also a rare peek into the best productions in global theater.
The Toneelgroep from the Netherlands and South Korea's Michoo Theater will both present one-woman shows, with one actress playing up to 32 roles. Denmark's Odin Teatret will present Ode to Progress and Memoria.
In a tribute to mark Shakespeare's 450th birthday this year, the wickedly talented Reduced Shakespeare Com-pany from the US will present the hilarious production The Complete Works of William Shakespeare. The Company Theater Workspace from India will offer up a surprisingly simple version of the otherwise romantically magnificent Twelfth Night.
We Recommend: