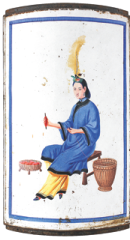 A block painting from the Textile Museum and the Decorative and Arts Museum in Lyon features a woman dressed in Chinese costume preparing thread.[Photo provided to China Daily]
Lyon has long been a key city in the transport of silk products from Asia, especially China to European cities.
"Some areas in Lyon have a close bond with China because of the silk industry. There is a silk road between Lyon and Dunhuang," says Yan Dong, deputy general manager of the China Arts & Entertainment Group, which helped organize the event.
Yan says French artists in the 18th century often used Chinese elements like pagodas, bridges, temples, landscapes and mountains in their works.
So, he says, it is not uncommon to see Chinese style works by French artists.
Meanwhile, among the other items on display at the French pavilion are 34 antique silk items from the Textile Museum in Lyon, portraits of French royalty, royal antique furniture and exquisite clocks and vases, which give you a glimpse of daily life of the French elite in those days.
With regard to the offerings from other countries, there are contemporary art from Italy, oil paintings featuring Silk Road landscapes by Russian artists and art from Egypt.
This is the first time that the tourist city known for its Mogao Grottoes holding such a big cultural event.
The expo is also the first for Gansu province, but it will not be the last as the event is slated to be an annual one from now on, says Zhang Yu, president of the China Arts & Entertainment Group.
The expo will run until Oct 10.