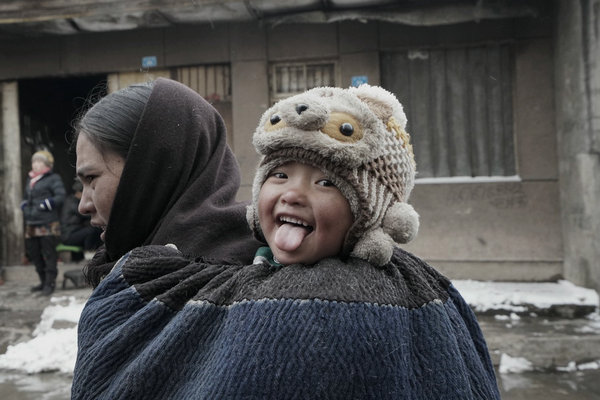 Zeng Yi's work, portraying people and their lives in Daliangshan and Yimengshan. [Photo/Chinaculture.org]
An old farmer stands in front of a house with a little timid expression on his wrinkled face; a smiling boy sticks his tough out on his mother's back, and a woman looks at you directly through her clear and innocent large eyes…
When you see the villagers in photographer Zeng Yi's photos, or they look at you, you can feel a cool breeze brushing your face, blending with the smell of moist earth and icy snow.
An exhibition, titled "Homeland Old Days", featuring some Zeng's 50 photos, was held in Beijing on September 22.
People, the old and young, from Daliangshan mountain area in Sichuan and Yimengshan mountain area in Shandong, were portrayed in these pictures.
In the dark background, they look very real, yet like someone who will only appear in your dream.
"Since the early 1970s when I went to take photos for their weddings and other celebrations, I have been recording the elders and youngsters and their daily lives in these areas. I was often moved by them, and sometimes even shot photos with tears in my eyes," said Zeng.
"Despite changes that are happening, I am still emotionally attached to my hometown."
Ending on October 20, the exhibition is on at the Exhibition Gallery of the Center of International Cultural Exchange.