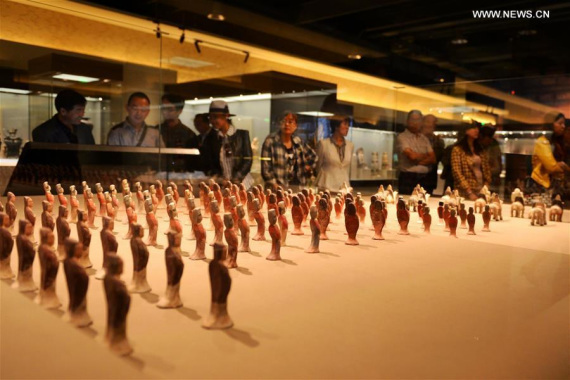 Visitors view the exhibits during a preview of the Silk Road (Dunhuang) International Culture Expo in in Dunhuang, Northwest China's Gansu province, Sept 12, 2016. The expo will be held in Dunhuang from Sept 20 to Oct 10. [Photo/Xinhua]
Dunhuang Academy has signed memorandums of understanding (MOUs) on the study and preservation of earthen relics in Northwest China with three institutions from the United States and Britain.
According to the academy, which is responsible for the conservation, management and research of the Mogao Grottoes, an agreement was reached with the California-based Getty Conservation Institute, which will provide guidance for the establishment of research centers for wall paintings and earthen architectural sites.
The MOU also mentioned a possible collaboration between the two institutions on earthen architecture conservation, an evaluation and revision of the Mogao Grottoes master plan, and guidance and advice related to the conservation and management of other World Heritage sites on the Silk Road route under the academy's purview.
The academy also inked a two-year research project plan with the University of Oxford. The project, financed by the UK-based Royal Society, aims to develop new preservation methods for earthen relics in northwestern China and share knowledge among researchers of the two countries.
In addition, the academy and the British Library decided to expand the existing cooperation on the International Dunhuang Project to provide a free-to-access digitized catalogue for scholars worldwide.
The Mogao Grottoes, also known as the Thousand-Buddha Caves about 25 km southeast of Dunhuang, are one of the largest, best-preserved and richest sites of Buddhist art in the world.