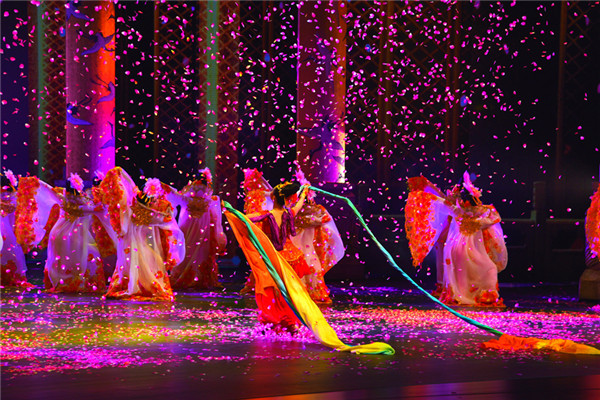 The dance drama Flower Rains along Silk Road is staged in Dunhuang as part of the ongoing culture expo. [Photo by Zhang Xingjian/Chinaculture.org]
Gansu province's Dunhuang is hosting the first Silk Road Dunhuang Culture Expo until Oct 7, presenting thousands of antiques, artworks and handicrafts from across the globe.
The city-known for its grottoes that date back 1,600 years-was a major node of the ancient trade route.
A total of 85 countries, including France, Italy, Germany, Russia and Egypt, will display about 8,500 cultural items, including about 2,000 antiques and an equal number of artworks.
That's not to mention two weeks of forums and performances.
At the opening ceremony on Tuesday, President Xi Jinping sent a welcome letter to the expo, saying that Dunhuang has long been an important city to integrate cultures from East and West, and that the culture expo offers a critical platform for nations along the Silk Road to cooperate and exchange.
Vice-Premier Liu Yandong attended the opening ceremony and made a speech.
Minister of Culture Luo Shugang says the expo is listed in China's 13th Five-Year Plan (2016-20) as a platform to support China's Belt and Road Initiative.
France-the guest of honor-is presenting about 400 cultural products, including photos, music, film, food and fashion, in a space as big as five basketball courts. The presentations demonstrate its Silk Road connections.
Highlights include oil paintings by French masters Eugene Delacroix and Pierre Mignard, and Spanish icon Pablo Picasso.
Antiques from French museums like the Silk Museum in Lyon and Musee Pasteur in Paris will be presented for the first time in China.
Bernice Angremy, cultural attache of the French embassy in China, says the Silk Road has for 800 years enabled France to communicate with China and Asia, and engage Confucianism, Buddhism and Islam. It made French culture what it is today.
China is presenting a 500-year-old, 30-meter-long map of 211 places in 10 nations and regions in Asia, Europe and Africa, from China's Jiayuguan in Gansu province to Mecca in Saudi Arabia. The "world map of the Middle Ages" was bought by a Chinese collector from a Japanese museum in 2002.
A special show about the Maritime Silk Road displays models of ships used by explorers in the Ming Dynasty (1368-1644), actual shipwrecks' debris and daily items used by Chinese who migrated to countries along the route.
On-site artists will present such handicrafts as carpets, porcelain pieces and enamel ware.
"The expo is like a journey through time enabling visitors to experience art along the Silk Road," says Yan Dong, deputy general manager of China Arts & Entertainment Group, which helped organize the event.
The expo harks to the prosperous period when people from different nations came together for culture and business centuries ago.