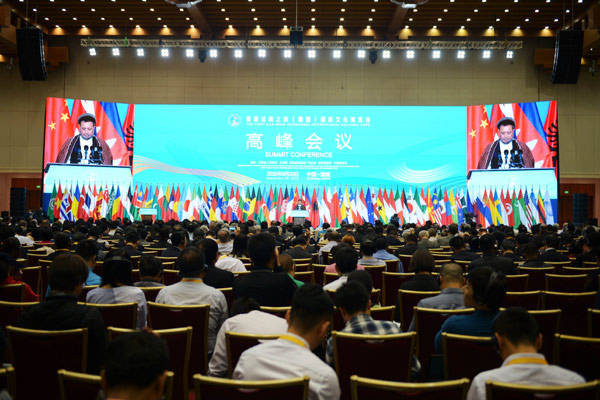 The first Silk Road (Dunhuang) International Cultural Expo opens at the Dunhuang International Conference and Exhibition Center. [Photo/Xinhua]
The first Silk Road (Dunhuang) International Cultural Expo opened in Gansu province's Dunhuang city this morning.
Chinese President Xi Jinping sent his congratulations. He accentuated the significance of the cultural feast in building friendships and making the world a better place. Vice Premier Liu Yandong attended and delivered the keynote speech.
As the only high-level forum and exhibition platform organized by the Chinese government for cultural exchanges among countries and regions along the ''Belt and Road", the expo attracted 95 foreign delegations from 85 countries and five international organizations. Coupled with 66 overseas establishments, a total of more than 1000 guests attended the expo.
The expo is centered on cultural exchanges and cooperation. It carries forward the Silk Road spirit of "peace and cooperation, openness and inclusiveness, mutual learning and mutual benefit". And, following the principles of negotiation, joint development and sharing, the Dunhuang Declaration will also be drawn up and released. It is going to be one of the expo's most important achievements.
Over the next few days, one main summit, five sub summits, five special summits and various cultural activities will be held. More than 8000 precious cultural heritages from 60 countries will be on display. Art performances, including the long-awaited dance drama Silk Road, Flower Rain, will be staged.
According to deputy director Liang Yanshun of expo's executive committee, the Gansu provincial government is expected to sign a dozen agreements and work on 90 cultural projects with foreign countries, regions and international organizations. The amount of contracts are tipped to amount to100 billion yuan.
The gala See You in Dunhuang will be held and broadcast live on Gansu TV at 8 pm tomorrow.