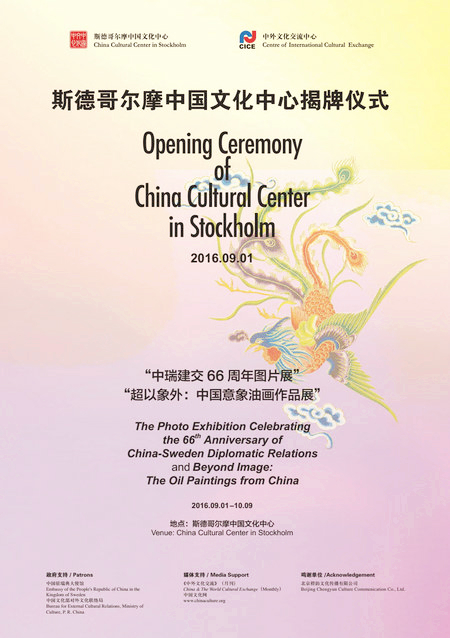 Poster for the two exhibitions. [Photo/Chinaculture.org]
A duo of exhibitions, "The Photo Exhibition Celebrating the 66th anniversary of China-Sweden Diplomatic Relations" and "Beyond Image: the Oil Paintings from China", will be held in Stockholm, Sweden, from Sep 1 to Oct 9.
The display is a special event to celebrate the opening of the China Cultural Center in the city.
The photo exhibition will feature images showing the development of ties between the two nations in the field of politics, economy and culture.
And 28 pieces of works from eight contemporary Chinese painters in different ages will be showcased at the painting exhibition.
Chinese gu qin performer Deng Hong and flute player Long Lian will give a joint performance at the opening ceremony of the China Cultural Center.
As a gift for Swedish people, they will use traditional Chinese musical instruments to perform Swedish pop group ABBA's well-known song I Have a Dream.