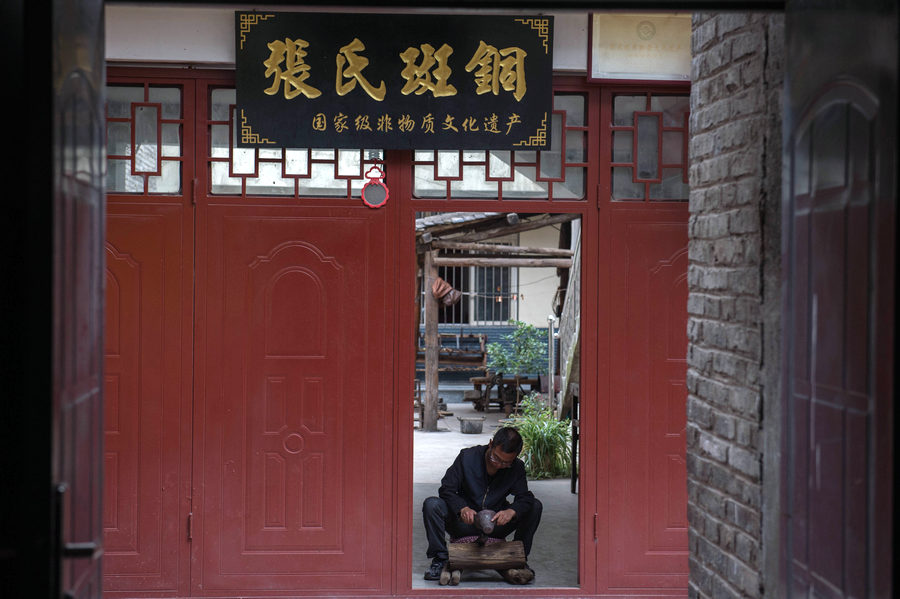 Wang Wei works on a spotted bronze ware at Huize county, Yunnan province, Sep 3, 2016. [Photo/Xinhua]
Craftsman Zhang Wei, 28, inherited the spotted bronze craft, a traditional skill to make spots and figures on bronze wares.
Before Zhang devoted himself to spotted bronze wares making, he once had a proper work with a more stable income at a state-owned enterprise.
Yet the passion to inherit the spotted bronze craft allured him to become a professional craftsman.
It often takes him two to three months to finish a spotted bronze ware, which undergoes at least 20 processes.
Due to a lack of material and difficulty in passing down the craft, hand-made spotted bronze wares are extremely precious.
In 2008, the spotted bronze craft was listed as a National Intangible Cultural Heritage.
"I hope more people get to know spotted bronze, and let the craft be passed down," Zhang said.