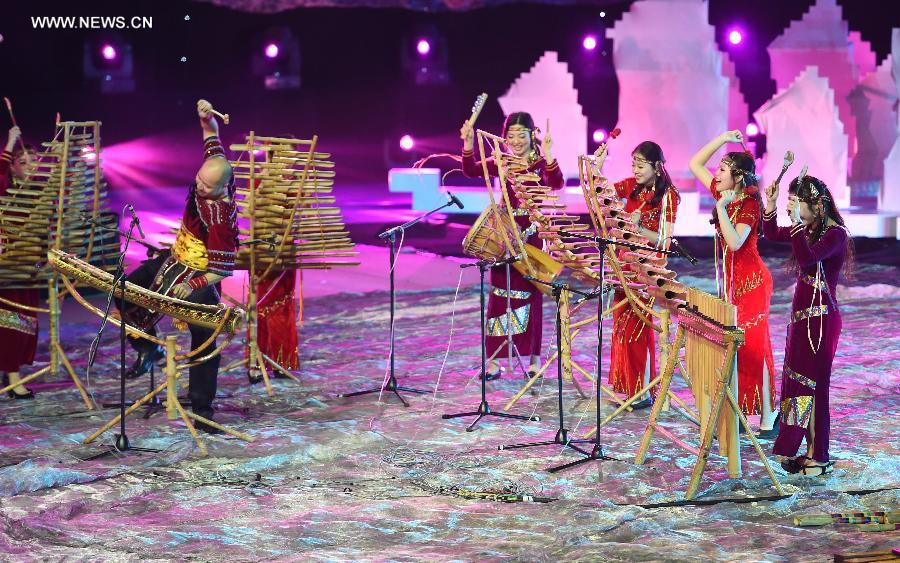 Actor and actresses perform during the opening ceremony of the 14th Asia Arts Festival & the 2nd Maritime Silk Road International Arts Festival in Quanzhou, Southeast China's Fujian province, Nov 8, 2015. The festival kicked off Sunday, drawing participants from over 40 countries and regions. [Photo/Xinhua]
Cultures collaborated, arts flashed, and Quanzhou made a splash as the 14th Asia Arts Festival held its opening ceremony Sunday at the Straits Sports Center.
A sold-out crowd of art fans packed the center for the opening ceremony in the city that is known as the starting point of the Maritime Silk Road. The event, themed Dreams on the Sea, featured artists from countries across Asia representing their cultures through a wide range of performances that included dance, song, acrobatics, and traditional rituals.
Chinese Minister of Culture Luo Shugang and Deputy Minister of Culture Ding Wei were there to see different aspects of Asian cultures collaborateon this historicnight.
Organized by the Ministry of Culture, the Asia Arts Festival began in 1998 and is held every two years. This year's fair includes 26 participating Asian countries.