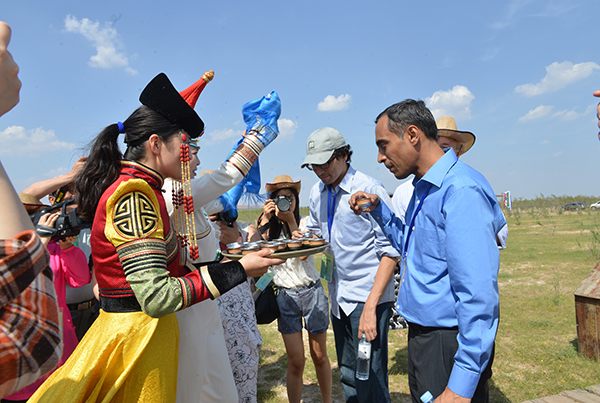 China Daily editor Faisal Kidwai. [Photo/chinadaily.com.cn]
China Daily editor Faisal Kidwai, India
There are 1,001 reasons to visit Inner Mongolia. From watching the bluest sky in the world, the smiling faces that will greet you at every corner, but if you're really short on time, then I would high recommend a visit to the National Art Troupe in the Capital Hall. Inner Mongolia's folk music and its performances will stay with you forever.
The museum is impressive. Nearly everybody in the world knows Genghis Khan. Even in India, he's very famous, because he oversaw the rule of a very, very big- huge- empire, so looking at his old photos, statues, was very mind-blowing. And then looking at the dresses, the Mongolian dresses, the dresses he wore, the women at that time wore, was also something very, very impressive.
Inner Mongolia has so many interesting things, but I don't see the foreign newspapers, the TV, the Internet say much about Inner Mongolian ethnic groups. Maybe we need to promote, promote better Inner Mongolia, especially the groups.
Related:
Diplomats explore Inner Mongolia's grassland