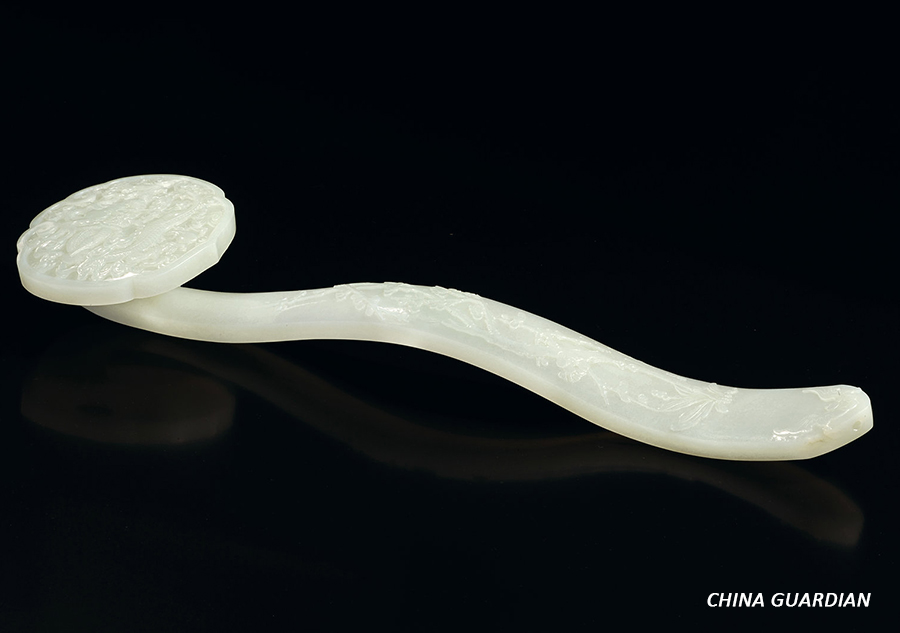 This white jade 'dragon and bat' Ruyi sold for 20,700,000 yuan ($ 3,300,645) at the 2011 Spring Auctions. [Photo/ english.cguardian.com]
Ruyi, which translates literally to "as you wish", is a curved decorative object that serves as a ceremonial scepter or a talisman symbolizing good fortune in Chinese folklore. A traditional Ruyi has a long S-shaped handle and a lingzhi mushroom-shaped head, and is made from diverse materials like jade, bamboo, wood, ivory, gold, or iron.
According to the records of the Palace Museum, Ruyi originated from back scratchers in early China. During the Qing Dynasty (1644–1911), Ruyi scepters became the luxurious symbols of political power that were regularly used in imperial ceremonies, and were highly valued as gifts to Emperors. Let's have a look at some of the exquisite Ruyi that have gone under the hammer at the China Guardian auctions.