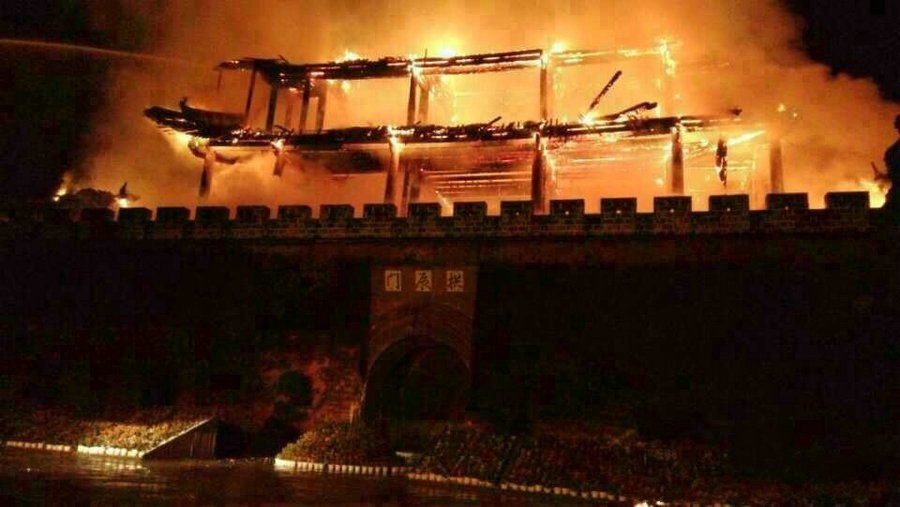 A photo shows the burning ancient Gongchen tower in Yunnan province, Jan 3, 2015. [Photo/ news.163.com]
Fire burned Gongchen tower, a 600-year-old structure, in an ancient city in Weishan county, Dali prefecture, Yunnan province, to the ground on Jan 3, 2015. After the blaze started at 2:49 am, six fire engines and more than 100 rescuers of Weishan county arrived to contain the fire, while 43 firefighters and four fire engines from surrounding areas too were mobilized for the rescue effort. By 4:48 am, the flames that engulfed the 300 square meters of the tower were put out.
No injured have been reported and the full extent of the damage is not yet clear. Sources claim the fire broke out because the Gongchen tower was illegally contracted by a private teahouse. However, the authorities denied the charge and said the cause of the fire is still under investigation.
The 47.1-meters-long, 26.6-meters-wide and 8.1-meters-high Gongchen tower, one of the oldest towers in Yunnan province, was built in 1390 during the Ming Dynasty. The Yunnan provincial government listed it as a key cultural protection site in 1993.
Some allege that in recent years many ancient cities have been destroyed by fire due to the haphazard commercial expansion that does not take fire safety into consideration. In December, 2014, a blaze engulfed 600-year-old Jiuji Miao village in Guizhou province, which was one of the biggest and best preserved villages of the Miao ethnic minority and was selected by China as a UNESCO World Heritage site nominee. In Jan 25, 2014, 300-year-old Baojing village in Zhenyuan county, Guizhou province, burnt to the ground. A fire on Jan 11, 2014, destroyed the Dukezong ancient town in Shangri-La, Yunnan province.
"Although the cause of Gongchen tower is not clear, most of the destroyed ancient cities caught fire due to commercial exploitation. The ancient Chinese knew the importance of fire protection so they took measures. The rapid construction these days has overtaken the ancient fire protection system, but these measures are not implemented," commented Beijing Youth Daily.