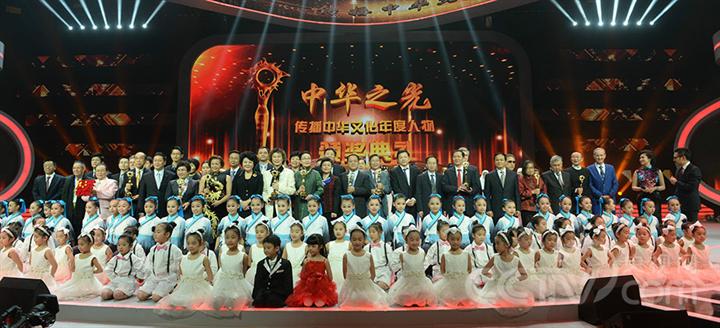 "Light of China: Persons of the year in spreading Chinese culture" gala on CCTV-4[Photo/CCTV.com]
The third "Light of China: Persons of the year in spreading Chinese culture" selection process concluded and the final winners were rewarded in Beijing at the end of the year 2014.
Hosted by Chinese Culture Ministry, the Press Office of the State Council China, and China Central Television, the annual event rewarded 10 individuals and one group this year for their remarkable contributions to spread Chinese culture, advance Chinese values overseas and enhance cultural exchanges worldwide. The selected candidates, who come from different parts of the world yet share the same love of Chinese culture, include the well-known Sinologist Rao Zongyi, the famous musician Tan Dun, the outstanding entrepreneur Fang Libangqin and celebrated poet and writer Chengbao etc.
Lu Yanbin and Wang Suoying, a couple married for half-a-lifetime, were honored for their consistent and fruitful effort to teach Chinese language in Portugal. Wang Suoying, 63, grew up in Shanghai and her husband Lu Yanbin was her classmate when she was a Portuguese major in college. The couple went to Portugal in the early 1990s for their Chinese teaching career. Unfortunately, Lu Yanbin began suffering from eye illness soon after reaching Portugal and lost his sight completely in 2001. However, that didn't stop him from his work.
"Though my eyes cannot feel the light, yet I myself can still shine," said Lu. The couple helped and relied on each other and went through countless hardships in the past two decades. They have set up the most influential, long-lasting and the biggest Chinese teaching institution in Portugal and published several books in Portuguese, which largely promote the spread of Chinese culture overseas.
"My husband has been unable to see for many years but he has been giving lessons everyday, has compiled text books and produced CDs. This kind of spirit is rare and precious," said Wang.
"Light of China: Persons of the year in spreading Chinese culture"event is an important TV program of CCTV, after it broadcast "Touching the Heart of China" and "Annual Economic Figures." The gala was broadcast on CCTV-4.