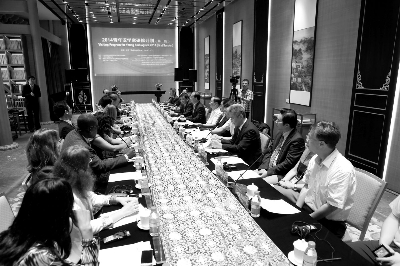 Sinologists attend the training program's graduation ceremony.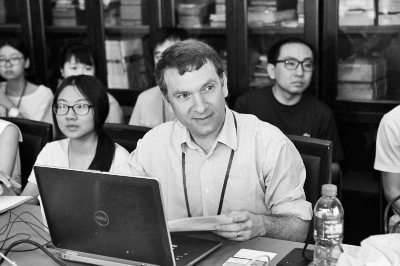 Sinologists interact with Palace Museum scholars.
Sinologists visit the Today Art Museum.

The first "2014 Young Sinologists Training Program" was held July 2-22 in Beijing.
Co-sponsored by the Ministry of Culture and Chinese Academy of Social Sciences and organized by the Cultural Exchange Center, the program drew 18 young Sinologists from 15 countries, including the United States, France, India and South Korea. By participating in lectures, seminars and other activities, the participants gained academic inspiration as well as a better understanding of China.
A view of China from the perspective of China's leading experts
The Sinologists' training trip to China started with lectures by authoritative experts. Scholars Li Yining, Ge Jianxiong, Wang Meng and Xu Yuanchong offered the following speeches: "China's Economic and Social Development since Reform and Opening Up", "China's formation of its territory change", "Chinese culture", and "Chinese literature works translation".
Training program sparks on Academy
After the lectures, the young Sinologists, accompanied by their counterparts from the research institutions, visited institutions such as the China Academy of Social Sciences, Chinese Academy of Arts, the National Palace Museum, Art Museum of China and Peking University, to participate in a two-week research project.
"CASS arranged a lot of lectures, seminars. I learned specifically about the characteristics of Chinese literature research and its trends in two weeks," said an assistant professor of Chinese language at Hanyang University, South Korea.
We recommend: