5. The most high-profile art buyer: Liu Yiqian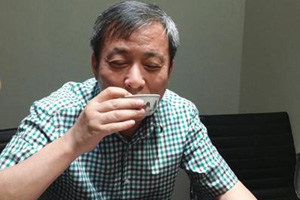 Liu Yiqian drinks tea using the famous "chicken cup" that he purchased for $36 million at a Sotheby's auction in April.
Liu Yiqian, the Shanghai billionaire, is considered "the most high-profile" art buyer this year due to his much-talked about sip when he went to collect his $36 million chicken cup in Hong Kong. Some netizens called him "tuhao" or nouveau riche, and said he was showing off.
Then again, Liu's lavish spending on an embroidered Thangka at a Christie's sale in Hong Kong not long ago has pushed him into the public view again, with his tweeting on Wechat that his purchase is "self-willed".