2.The most lavish spending of the Chinese rich in the world art market: Wang Zhongjun's purchase of a Van Gogh painting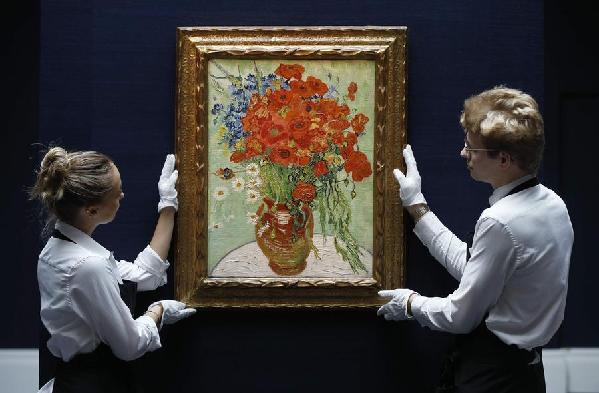 Two staff members pose in a gallery with "Still Life, Vase with Daisies, and Poppies" by Vincent Van Gogh from 1890 at Sotheby's auction house in London October 10, 2014. [Photo/Agencies]
Van Gogh's 1890 painting, Nature Morte, Vase aux Marguerites et Coquelicots, fetched $61.8 million, far more than the pre-sale estimate of about $40 million, at a Sotheby's Autumn Evening Sale in New York on Nov 5, 2014.
Created one month before the artist's death, the vibrant painting is considered both a rare masterpiece and a savvy investment.
The buyer was Chinese film mogul Wang Zhongjun, chairman of the high-powered Huayi Brothers film studio. The purchase set off an Internet debate about lavish spending, with experts saying China's high-profile art buying has only just begun.