Clothing Decorations
Silver Patches
People of the Miao branch near the Qingshui River delta area traditionally wear clothes with silver patches. The most common patches are square, rectangular or round and usually feature reliefs of lions, tigers, phoenixes,
golden pheasants, dragons, cranes, butterflies, flowers, children and arhats (enlightened Buddhists). Butterfly-shaped bells decorate the bottom of gowns and wristbands, ringing melodiously when the girls walk.
Silver Waist Chains
Silver waist chains are mainly shaped like plum blossoms, with single or double layers.
Silver Clasps
Silver clasps are most common in the Duliu River delta area. These clasps are highly decorative.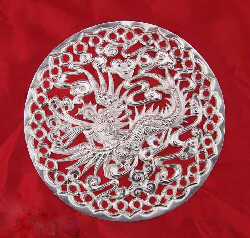 Back Decorations
Back decorations can be functional or purely for ornamental purpose. These decorations are usually shaped like butterflies or gourds, and are mostly worn by girls and women.
Others
Waistbands and foot decorations are popular in some regions.
Author: Jeff