The Miao ethnic group's silver ornaments are second to none, both in terms of quantity and variety. Miao women's festive attire includes a variety of silver decorations, weighing as much as 15 kilos! The purpose of wearing all this silver is of course primarily aesthetic, but it also shows affluence and is thought to wards off evil spirits.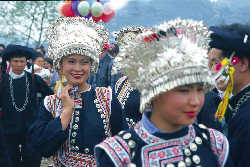 While usually worn by women, theMiao ethnic minority's silverware is made by men. Categorized by functions, there are hats, clothing, necklaces, bracelets, and rings. The level of craftsmanship ranges from relatively basic styles seen in some of the bracelets and neckbands to very delicate skilful work used to make silver bells, flowers, birds, butterflies, needles, bubbles, chains, and earrings.
There are three basic varieties of Miao silverware distinguished by area. The first type is represented by easternGuizhou Provincewhere people wear silver ornaments made with a high degree of craftsmanship. The main works are silver hats and clothes. The hats are made of dozens or even more than a hundred parts, topped by tall horn-like decorations. The second style is from the Songtao andTongrenregions, and features silverware inlaid on kerchiefs, shawls, and clothes. Delicate earrings are also made with a high degree of craftsmanship although there is now less silver decoration than before. The third type, from the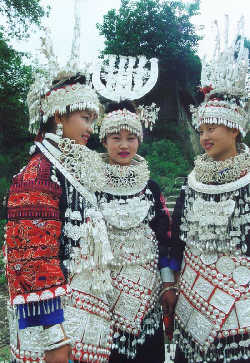 regions west of Guiyang, capital of Guizhou Province, features comparatively few varieties of silverware. Only hairpins, combs, and flower decorations are made there. All three areas make earrings, neckbands, and bracelets. 
There is a great demand for Miao silverware but all the craftsmen are amateurs who can often only work during the farming off season. Then in some regions unique "silver villages" or large compound silver workshops appear.
Because the Miao silverware producing regions have no natural silver resources, the hardworking Miao people used to melt almost all the silver coins and ingots they earned. This led to different levels of silver purity as currencies differed from region to region. From the 1950s, the government began to regularly allocate special silver to the Miao people to as a sign of respect for their tradition and customs.