Characteristics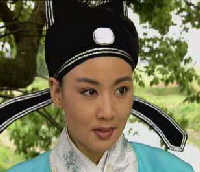 Huangmei Opera costumes contain a distinctive local flavor of China's ancient past. In most operas, artists wear ancient-style garments since most Huangmei operas are based on Chinese folk tales. Since the contents of the opera are often varied, costumes and sets change according to the opera's social environment and customs. In modern Huangmei operas, like "A Woman of Huizhou", artists simply wear ordinary clothes when performing the modern play.
Huangmei Opera music features folk songs that are graceful and sweet-sounding. Three types of music are used: coloratura, character songs and basic tunes. The 104 coloratura tunes are taken from folk songs, tea-picking songs and other ditties. A short opera usually has its own features and is often named after the title of its most popular piece. Since Huangmei Opera music is light and lyrical, a good performer must be skilled in performing such a style. Singing is not only the main approach to characterization: It also distinguishes Huangmei Opera both stylistically and musically.
Huangmei Opera is easy to understand and learn thanks to its lyrical tunes, simple words and literary tradition. Like other Chinese local operas, Huangmei Opera also adopts the local dialect. Since the language is a mixture of northern and southern styles, it is therefore easy to imitate and pleasant to native ears. (This factor also helped disseminate Huangmei Opera.) Its local flavor and folk style are most vividly revealed in its original and lively dialogue, which is both spoken and sung.
Passion, simplicity and purity is what makes Huangmei Opera an enduring drama  appreciated by all.

 Repertoires
Over the past 200 years, Huangmei Opera has developed quite a number of repertoires much loved by people.
In particular, Anhui Provincial Huangmei Opera Troupe's "The Heavenly Maid and the Mortal" ushered in a new era for the opera in its development history. Although the play was a traditional favorite, the troupe revised the script, music and make-up.