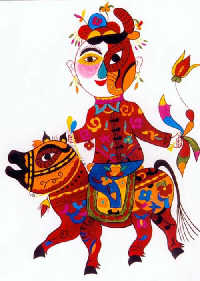 The Ansai painting to the left is characterized by fancy imaginations and bold colors. Its exaggerated modeling, distortion, and surrealistic style lend a feeling of truthfulness and naivety. The flamboyant color and compositions are imaginative, and cheerfully decorative. The art possesses the simplicity of people.
Some of the Ansai farmers' paintings are collected in the National Art Museum of China. What's more, the local brushworks have been exhibited in "the French Independent Salon Arts," while newspapers and periodicals like Arts, China Pictorial, and People Daily have appraised the folk art as a whole. In 1998, Ansai County won the title of "a Chinese Peasant Painting Village" by the State Ministry of Culture.
Longmen paintings stand out for their strong influence in the style from southern ethnic nationalities, an attribute that is rare in Chinese Native Art. With more attention now shifted to the study of ethnography, Longmen folk art has gradually attracted its due attention. More than 100 pieces of Longmen works have been displayed both at home and abroad, of which 48 paintings have been awarded provincial-level prizes. Besides, foreigners have bought over 4,500 brushworks.