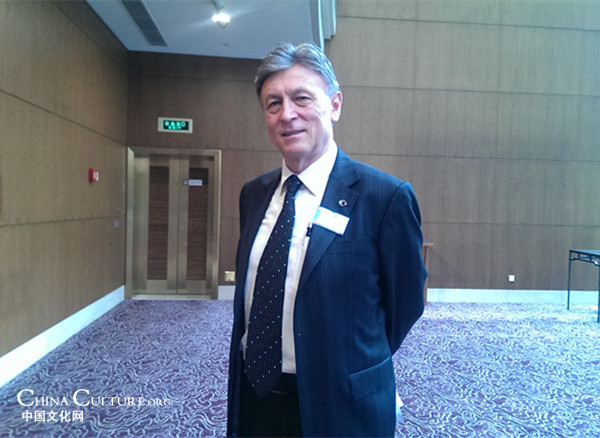 Prof. Bülent Okay attends the Symposium on China Studies 2014 [Photo by He Keyao/Chinaculture.org]
"The situation is very serious." These five words were shown on the presentation screen when Turkish scholar Bülent Okay gave a speech at the Symposium on China Studies 2014.
Okay, 56, is the head of the Chinese Department at Ankara University, Turkey. As the only Turkish professor at the college who speaks Mandarin, he feels a heavy responsibility on his shoulders to be a bridge for Chinese culture in Turkey.
"We need Chinese language talent here in Turkey, not only for schools and government, but also for industries like tourism, but sadly, we don't have such talent," Okay said, sighing when talking about the current situation of China studies in his country.
Though the first Turkish Sinology department was established in 1935 in Ankara, the development of relevant culture activities and studies is very limited. Only four universities nationwide have a Chinese language department, and most of the textbooks are English versions that adds further obstacles for Turkish students, especially for those who do not know English.
"We have over 30 postgraduates in my department and they study from 8 in the morning until 8 in the evening, including weekends. But still, time is not enough for us," Okay said. "We need teachers, teachers that know the Chinese language and China, urgently."
Limited resources, deficient culture exchanges, few Chinese teachers and insufficient funds, that all has made it hard for the Turkish public to get to know Chinese culture. Poor translations of Chinese readings have only made the situation even worse.
According to Okay, translation mistakes are frequently seen in Turkish versions of Chinese literature. For example, in female Chinese novelist Tie Ning's book, when Chinese people say "Gan" for drinking beer, it means "cheers" or "drink up", while the Turkish translation is "drinking dry beers", which is hardly understandable at all.
"This is just a small example and things like this are so common In Turkey. So how could you expect Turkish people to know Chinese literature?" Okay said, his voice reflecting disappointment.
Okay fell in love with Chinese culture when he was a little boy. It all started with a stamp - a Chinese stamp posted to his neighbor who was an overseas student from Taiwan.
"I was just fascinated with the characters on that stamp. They were just so beautifully written. I said to myself, at that point, that I will study that language and go to that country in the future," he said.
Okay went to Taiwan in 1977 and studied Chinese culture at National Chengchi University for four years. He returned to Turkey after graduation and has taught Chinese since then. As a well-known Sinologist, Okay speaks authentic Mandarin and draws Chinese traditional ink and wash paintings. He also held an exhibition of his paintings in Turkey.
"I know it's not good to criticize my own country and university, but we really want change," He said. A deep love for Chinese culture makes his heart ache when facing the status quo of Chinese studies in Turkey. "We need help," he said.
We Recommend: