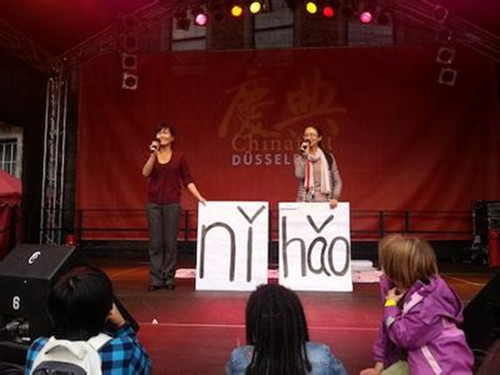 Teachers from the CI Düsseldorf observe the development process of pictographic Chinese characters on the main stage of the annual China festival.[www.baidu.com]
Making existing prejudices towards China disappear will take time," Dr. Cord Eberspächer emphasized during his speech last March at the meeting between Chinese President Xi Jinping and a group of German sinologists in Berlin. "To change stereotype images of China, we should be talking about a time frame not of two or three years but rather of two or three decades," Dr. Eberspächer said. China Today talked with the German China researcher and historian about his work as director of the Confucius Institute in Düsseldorf.
"Education should be accessible to everyone," ancient Chinese scholar and thinker Confucius said more than 2,000 years ago. This quote also summarizes the credo of the Confucius Institute (CI) in the German city of Düsseldorf, capital of North Rhine-Westphalia (NRW) State. The institution was founded in 2006 as the first of its kind in NRW. Its aim is to promote Chinese language and culture in the region.
To make Mandarin more popular in NRW, the CI Düsseldorf offers a wide range of Chinese language courses, from trials to intensive business courses to special syllabuses in preparation for the HSK Chinese language certificate.
"Our classes, with the emphasis on spoken Chinese, are very popular with German students," CI director Eberspächer said. "Apart from students, those taking part include young adults, employees, and even senior citizens. One elderly gentleman, for example, having spent five years in our language program, is now preparing to take the HSK level 3 exam." Apart from a general curiosity about China and Chinese language, people generally join the CI program for professional reasons, Dr. Eberspächer explained.
For many, acquiring Mandarin skills at the institute is crucial to finding work. "Nowadays this is the main motivation of many of our students. It is notable that a fundamental change in perceptions of Chinese language has occurred over the past two decades," Eberspächer said. "When I started to learn Mandarin 20 years ago, the reaction of friends and acquaintances was to ask, 'Why learn Chinese? It's exotic and so far away. Does it have any practical applications? You should learn something useful instead!' But today people say: 'Smart choice, people should learn Chinese. It's important!'"
Besides regular programs, CI Düsseldorf also offers extra courses tailored to individual needs. "In this way we try to cater to the relatively heterogeneous structure of our student body," Eberspächer said.
A notable student in one such individual program is German table tennis player Timo Boll, who is something of a celebrity in the People's Republic. "Boll knows that he is more famous in China than in Germany, and so wants to be able to speak at least a little Chinese," the CI director said. "Big company executives also take part in our individual courses."
Teachers provide students with modern language learning materials, mostly free of charge. They constitute the basis of the CI Düsseldorf learning process because, as Eberspächer told us, "Our Chinese tutors use interactive teaching methods based on real communication."
"Instead of strictly following the textbook in class, they also introduce individual elements. Our strength lies in this emphasis on communication and interactive use of everyday language."
In comparison with "German as a foreign language (DaF)," which has long been established as an independent scientific discipline in Germany and in many other countries around the globe, "Chinese as a foreign language" is still in its infancy in this respect.
Dr. Eberspächer said that the ongoing institutional development and rapid expansion of teaching practice has resulted in a closer association between professional education and research into Chinese as a foreign language.
We Recommend: