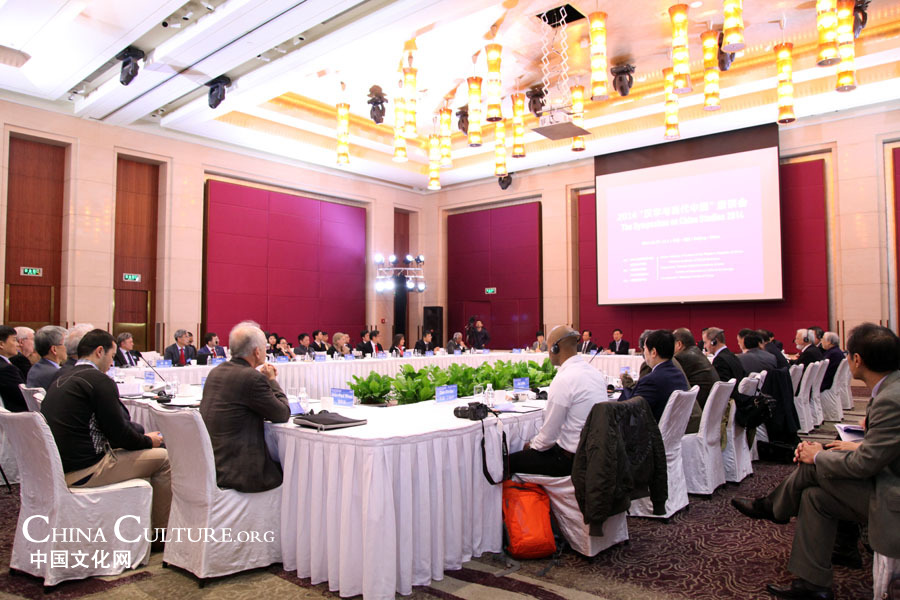 Scholars and experts, from home and overseas, attend the symposium. [Photo by Liu Fang/Chinaculture.org]
The three-day 2nd symposium on China Studies kicked off in Beijing on Oct 28 and more than 30 Sinologists and scholars from 18 countries gathered to share their understanding, ideas and love for Chinese culture.
The event, co-hosted by the Ministry of Culture and the Chinese Academy of Social Sciences, aims to explore contemporary Chinese culture and re-examine traditional culture in a modern social context. "China Dream and Contemporary Chinese Values", "Modern Interpretation of Traditional Chinese Culture", "Translation and Promotion of Chinese Contemporary Work" and "Future of Sinology" are the four main themes of the session.
"I believe that each Sinologist has his 'China story' and the accumulation of these stories represents the development and historical progress of China studies overseas, which is also the progress of China's integration into the world," said Cai Wu, Chinese minister of culture, in his opening speech at the session, following a warm welcome to all the scholars present.
Twenty foreign scholars from 17 countries and 14 Chinese Sinologists were present.
"We are catching up with the pace of global economic integration on the one hand so as to blend ourselves better into the international community. On the other hand, we need to further advance the essence of traditional Chinese culture and form our core value system with both a contemporary spirit and national features," Cai Wu stressed when talking about the China dream of realizing a well-off society for all.
The deputy head of the Chinese Academy of Social Sciences, Li Peilin, and the president of the Chinese National Academy of Arts, Wang Wenzhang, also attended the symposium.
We Recommend: