In the long-term of progress of Chinese civilization, millions of valuable artworks were created by intelligent Chinese people. However, because of the wartime robbery or iniquitous trade, numerous national treasures have been lost overseas. Most of them are distributed in museums in the UK, France, Germany, US and Japan.
British museums and libraries have collected 1.3 million Chinese relics from different dynasties. In the British Museum, there are more than 30,000 pieces, including Chinese paintings and calligraphy, ancient books, jade, porcelain and bronze ware, which cover nearly 7000 years of Chinese history.
France is the second largest country to have the most Chinese relics after UK in Europe. In the Louvre Museum, there are over 30,000 relics and among them there are about 6,000 pieces of ancient pottery, bronze ware from the Shang and Zhou dynasties and porcelain ware.
Japan is said to have the most relics from China. Since 1840, at the time of the First Opium War, China has lost many of its treasures. It is said that more than 1,000 public or private museums in Japan have Chinese treasures.
America is home to most of the lost Chinese paintings and calligraphy. In the Freer Gallery alone, there are over 1,200 paintings and over 500 pieces in the Metropolitan Museum of Art.
Court Ladies Preparing Newly-Woven Silk (Dao Lian Tu) by Zhang Xuan (early 12th century)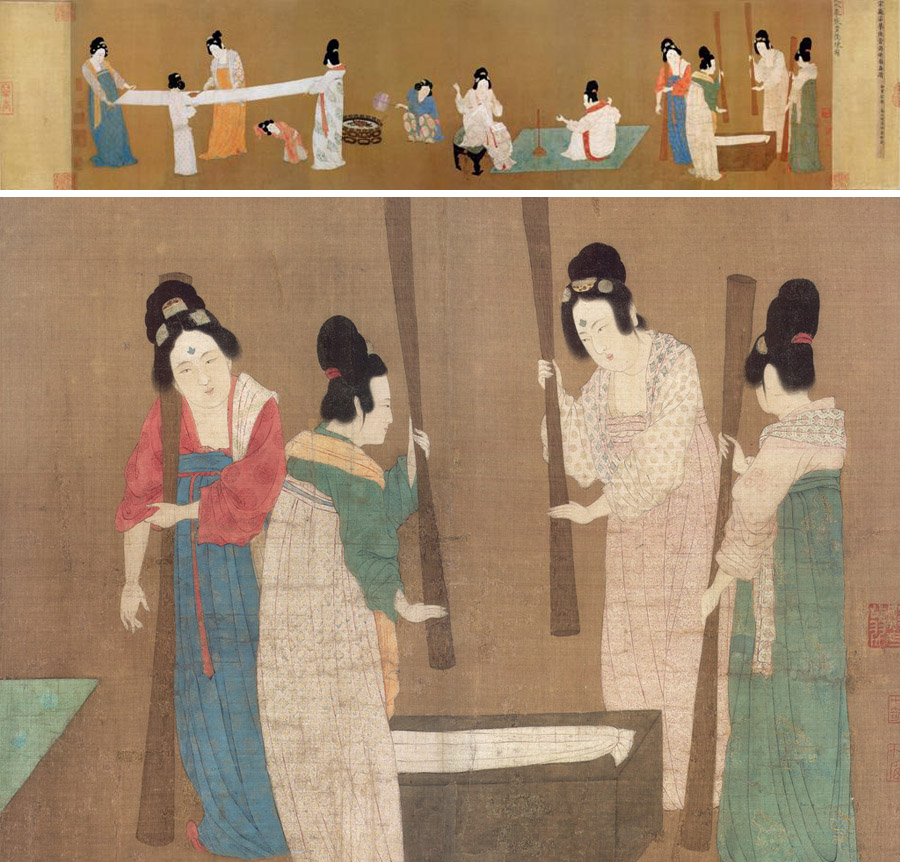 [Photo/nlc.gov.cn]
Zhang Xuan painted many pieces of art, one of the best-known is the Court Ladies Preparing Newly-Woven Silk, of which only a single copy survives. It wazs painted for Emperor Huizong of the Song Dynasty (1100-1125) in the early 12th century. It depicts women in the palace smashing, weaving and ironing white silk. The overall arrangement of this scroll and the expression and movement of these women are breathtaking. It was a treasure of Emperor Huizong and then belonged to and was cherished by Emperor Zhangzong of the Jin Dynasty. It takes high status in the court paintings of the Song and Jin Dynasty. In 1912, this scroll was bought by Okakura Kakuzo from a Beijing's noble and became part of the collection of the Boston Museum of Fine Arts (MFA).
We Recommend: