Appreciation on Chinese art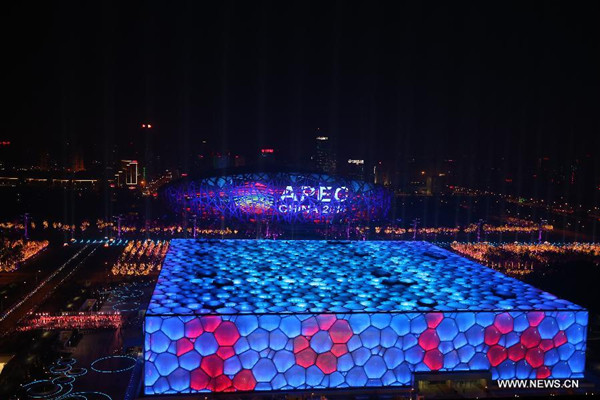 Night view of the National Gymnasium (the "Bird Nest") and the National Aquatics Center (the "Water Cube") and their surroundings ahead of the 22nd APEC Economic Leaders' Meeting in Beijing[Photo/Xinhua]
Apart from the national banquet, a series of welcoming activities also lightened up the whole APEC Economic Leaders Week.
With the theme "as good as water, pull together in times of trouble" ('Shang Shan Ruo Shui, Tong Zhou Gong Ji', a Chinese idiom), the welcoming event had different activities, including a march-in ceremony, art performances and a fireworks display.
Water, with the character of inclusiveness and concordance, represents the core spirit of Chinese philosophy and ways of living. As for the APEC summit members, water is also a symbol for the connection and interdependence of the countries in the Asia-pacific region. This idea ran through the design of the event, including the arrangement of the Water Cube and the Bird's Nest, the welcome logos, stage performances and the souvenirs on which APEC members signed. It delivered a strong message of cooperation, unity and solidarity.
We Recommend: