Showcase of Chinese fashion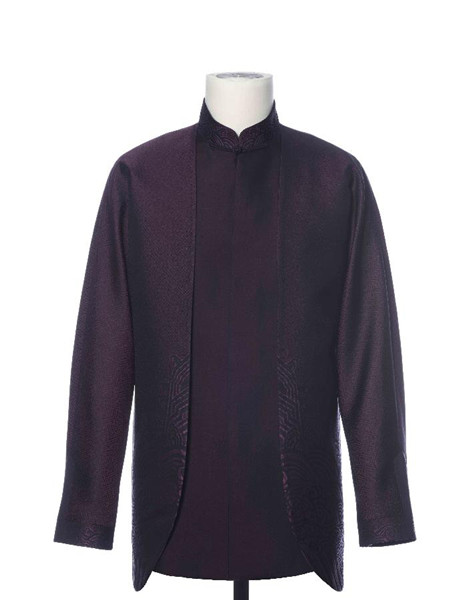 a traditional Chinese-style men's coat designed for male participants attending the 22nd APEC Economic Leaders' Meeting[Photo/Xinhua]
Members and their families that attended the APEC summit and meetings shared a big get-together in the Water Cube on the evening of Nov 10. At the gathering they were dressed in the "new Chinese suit", which has already become a hot topic among the public.
"This series of dress fully illustrate Chinese tradition and Chinese culture. You can tell that it's Chinese even by a single look," said Liu Yuanfeng, vice-chairman of the China Association of Fashion Design and president of Beijing Institute of Fashion Technology. Liu is in charge of the design and production of the APEC "new Chinese suits".
According to him, Chinese elements are incorporated into every step of the production. As for the design, styles such as a collar double-breast, cardigan, raglan sleeve are all Chinese traditional classics. In terms of texture, intangible cultural heritage materials such as traditional silk fabrics including Song Dynasty brocade (420-479 AD), and Zhangzhou velvet satin, were used. Traditional practices were used in the tailoring as well.
The design adheres to the style of "being single, low-profiled and inclusive", which illustrates the image of a great nation with rich cultural heritage, it also integrates modern fashion culture, said Wu Qingqing, one of the designers for the APEC outfits.
"Clothes carry a nation's culture, history and tradition. Chinese leaders have attached great importance on national and traditional culture; therefore domestic design is being more and more valued." Zhao Huizhou, another designer said.
We Recommend: