Feast on Chinese cuisine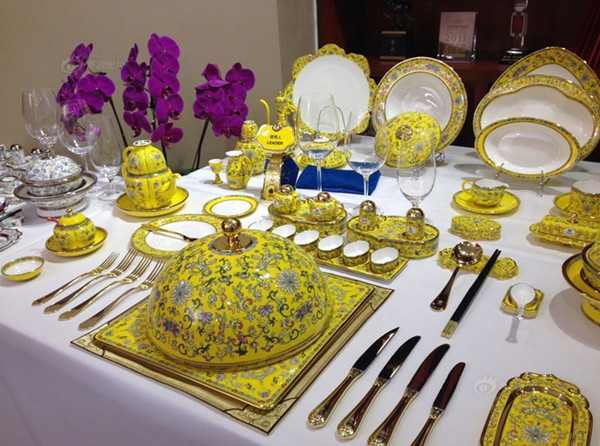 Gorgeous tableware used by the leaders and their wives at APEC banquet [Photo/Xinhua]
The APEC banquet was held at the Water Cube in Beijing on Nov 10th. The highlight of the meal focuses on cultural dishes over expensive and luxury menu items.
As one of the most famous dishes in Beijing, roasted duck played an essential role during the banquet. Eight cooks (chefs) from Quanjude Group performed a live demonstration on how to cut Peking duck at the scene. The final dish was beautifully presented in the shape of a flower, which was called "Millennium peony".
Besides the menu, the gorgeous tableware used by the leaders and their wives also drew much praise. According to Zhuang Zhicheng, one of the designers, the pattern of the dinnerware is themed after good blessings from the ancient Chinese classic "Books of Songs".
The background color of the tableware on the main table in the banquet is golden yellow, representing the majesty in Chinese traditions. The decorative craft of the dinnerware china also gave a strong taste of cultural charm. The traditional Chinese colored enamel craft resembled ancient Chinese palace imperial cuisine tableware. It is reported that each set of tableware has up to 68 items.
Moreover, the Chinese concept of "Ruyi", meaning "wishes granted" or "satisfying", was also applied in the design of the dinnerware, including the hand towel stands, chopsticks and other containers.
We Recommend: