The much anticipated 22nd APEC summit in Beijing has come to an end, but the Chinese elements, full of historical and cultural characteristics, attached to the meetings has drawn widespread attention from the public, both domestically and abroad.
During the six-day gathering of world and economical leaders, Chinese food culture, art performance, historical relics all came together to help give Beijing a perfect pose on the world stage.
Visit to the Capital Museum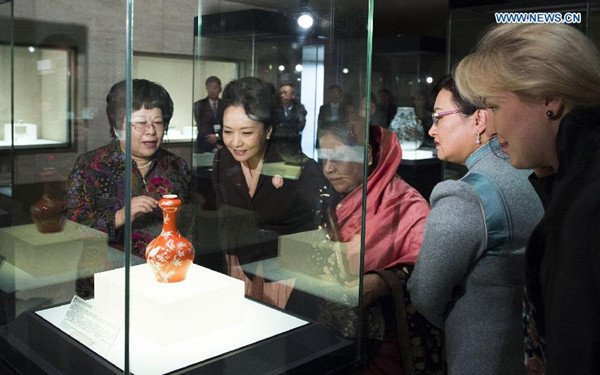 Chinese first lady Peng Liyuan and guests watch a porcelain at the Capital Museum in Beijing, capital of China, Nov 9, 2014.[Photo/Xinhua]
Chinese first lady, Peng Liyuan, invited the wives of Bangladesh President Abdul Hamid, Mongolian President Tsakhiagiin Elbegdorj and SCO Secretary-General Dmitry Mezentsev to the Capital Museum in Beijing on 9th November. Peng greeted the guests at the ornamental archway of the Museum.
Peng and ladies visited the museum's exhibitions on Beijing's history, ancient Chinese porcelain and traditional Chinese culture. They viewed bronze works of the Shang (1600-1100BC) and Zhou (1100-221BC) periods, jewelry from the Jin dynasty (1115-1234), clothing and paintings from the Ming (1368-1644 BC) and Qing (1644-1911) dynasties. The exhibits vividly presented the progress of Beijing, from primitive tribes to a modern metropolis. Peng and her guests were so immersed in the display that they frequently stopped to carefully view the exhibits.
During the tour of the museum, Peng occasionally played the part of the guide and introduced the exhibits' history. Exquisite items such as a bluish white porcelain Guanyin bodhisattva from Yuan Dynasty (1271-1368AD) and a clashing color cup with a grape grain pattern from the Ming period (AD1368-1644), earned much praise from the wives.
We Recommend: