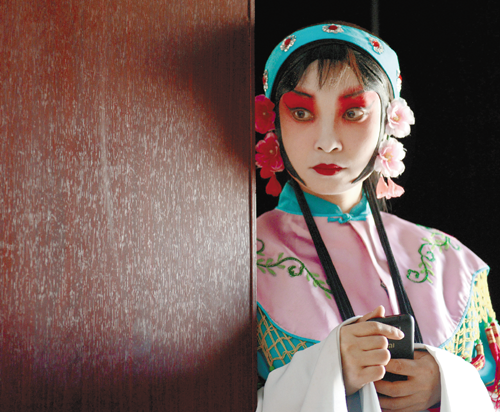 A member of Beijing Youth Peking Opera Troupe waits for her turn to perform at Shijingshan Cultural Center in Beijing.[BRUNO MAESTRINI/CHINA DAILY]
Young performers who work in conventional weekday jobs savor the traditions of Peking Opera on the weekends. Chen Nan looks behind the grease paint and the swordplay to see why. 
Liu Feng doesn't spend weekends going to karaoke bars or cinemas. Along with a dozen of his friends, the graphic designer drives for over an hour to Shijingshan district in western Beijing.
There are not many people hanging out around that area, since it is far from downtown. However, the sounds of traditional Chinese instruments, such as erhu, drums and cymbals, ring out from a small theater inside Shijingshan Cultural Center.
With several big suitcases carrying their costumes and stage settings, 31-year-old Liu and his friends arrive there at 10 am and start preparing for their performance, which starts at 2 pm.
With colorful makeup, bulky costumes and long swords, Liu and his friends stage a classical Peking Opera piece The Dragon and Phoenix Hall for an audience of more than 200.
After the show, they wash their faces and return to reality as ordinary young people, who work at different jobs, from a satellite engineer to a senior advertising manager.
Some experts worry that Peking Opera may die out, but younger fans like Liu have been working hard to revive it.
Together with members of Beijing Youth Peking Opera Troupe, which Liu co-founded in 2005, they have performed at the theater on weekends for two years.
"I fell in love with the Peking Opera in university, when I took a course about Peking Opera costumes. The beautiful embroidery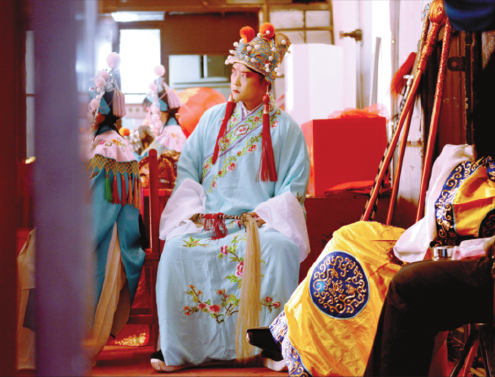 A member of the troupe waits to perform in costume.[BRUNO MAESTRINI/CHINA DAILY]
caught my eyes," says Liu, a Beijing native. "I once bought a robe for over 10,000 yuan ($1,609). My mother said I was crazy."
The troupe started with six people and now has over 30 members. They gather every weekend to train, rehearse and perform.
Thanks to support from government institutions like the Shijingshan Cultural Center, which offers a free venue for the troupe, people still have places to enjoy the ancient art form.
"They are amateur Peking Opera actors, but they perform like professionals," says Wang Yubo, the director of the center. Wang once studied Peking Opera in Tianjin and came to his current position seven years ago.
He also points out that older people stage Peking Opera mostly for fun but young fans do lots of research and approach it as a career.
"They gain a lot from their hard work and they respect traditional culture," he says.
Amateur groups like the Beijing Youth Peking Opera Troupe are springing up all over the city and many of them look to the Shijiangshan Cultural Center for their main stage, according to Wang.
Liu Fei, a 36-year-old doctor from Beijing, founded Yong Cui Peking Opera Troupe in 2004. All the members have stable jobs and good incomes to support their passion.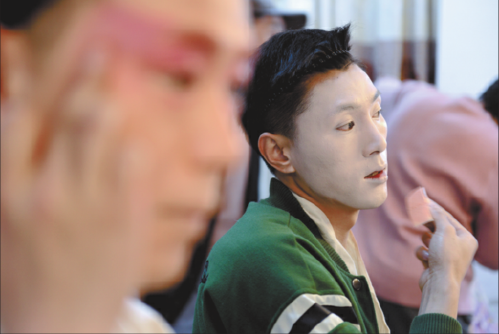 A member of the amateur troupe works on his makeup.[BRUNO MAESTRINI/CHINA DAILY]
"It's not a short-term thing since Peking Opera is sophisticated. The more you learn, the more you love it and the more you want to devote to it, both financially and spiritually," Liu says.
Celebrating the 10th anniversary of their founding, the troupe members have staged several shows at venues including the center and Chang'an Grand Theater.
"There is a generation gap in Peking Opera," Liu says. "While people in their 70s and above have strong interest since Peking Opera was a main entertainment in China decades ago, people of my parents' age, around 50 to 60, have little interest due to the 'cultural revolution' (1966-76). Now, a large number of young people, including white-collar workers and students, are picking it up."
The most fascinating part of Peking Opera for him is the traditional Chinese values and virtues told through the stories of Peking Opera, such as patriotism, loyalty and filial piety.
Liu grew up near the Beijing Peking Opera Theater, which is home to many veteran Peking Opera performers, and he would often watch them train and rehearse.
According to Li Shisheng, a Peking Opera master from Beijing, the art form is very difficult to learn. It requires a totally different style of singing and special breathing techniques. What's more, some plays require difficult actions such as doing the splits or fighting with swords or spears. Performers also have to remember hundreds of lines in ancient Chinese for each play.
"It takes much more effort for those amateurs since they have to work in the daytime," Li, 67, says.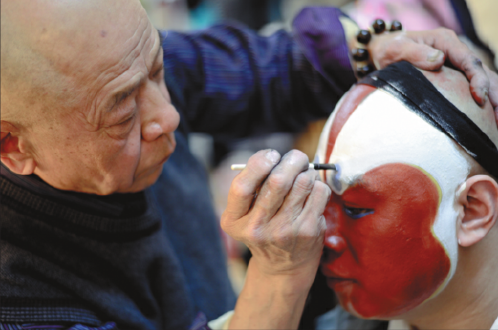 The troupe's artistic director Yao Zongru paints the makeup for a performer.[BRUNO MAESTRINI/CHINA DAILY]
He started to teach members of the Beijing Youth Peking Opera Troupe six years ago and spends three hours on the road every weekend to teach.
Though the "cultural revolution" prevented Li from making a career of his childhood passion, he practiced it every day while working in a factory.
Now, his son and daughter-in-law are performers at the Beijing Peking Opera Theater, and Li says that he is happy to continue his dream via working with young people.
"I want to teach my students the most authentic and traditional Peking Opera," Li says, scoffing at some recent efforts to give the art a modern edge with big-budget stage sets and other visuals.
"I believe that the most attractive part of Peking Opera is its original look," he says.
Liu Feng, too, seeks the art in its roots.
"Like traditional Chinese painting and calligraphy, the beauty of Peking Opera lies in its expression. It also takes time to learn it, from an eye contact to a footstep," he says. "In the beginning, it was a hobby and now we see it as a responsibility."
We recommend: