China-ASEAN Cultural Exchange Year 2014 started in Beijing on April 7, with Chinese Premier Li Keqiang, Myanmar President U Thein Sein and Thailand Prime Minister Yingluck Shinawatra sending congratulatory messages to the event.
Li said in his message that this year is the start of the second decade since the forging of strategic partnership between China and Association of Southeast Asian Nations (ASEAN) and the two sides stand at a new historical starting point in bilateral relations.
"The Chinese government attaches great importance to developing friendly relations and strengthening mutually beneficial cooperation with the ASEAN, hoping to take advantage of the Cultural Exchange Year to demonstrate fruitful result of cultural cooperation of the two sides and introduce cultural achievements to the world," Li said, noting that the event serves as a stage for cooperation among artists and peoples in different countries.
Li said China is willing to work with the ASEAN to open a new chapter in the development of relations between the two sides and cement common objectives to make greater contribution for peace and development in Asia and the world.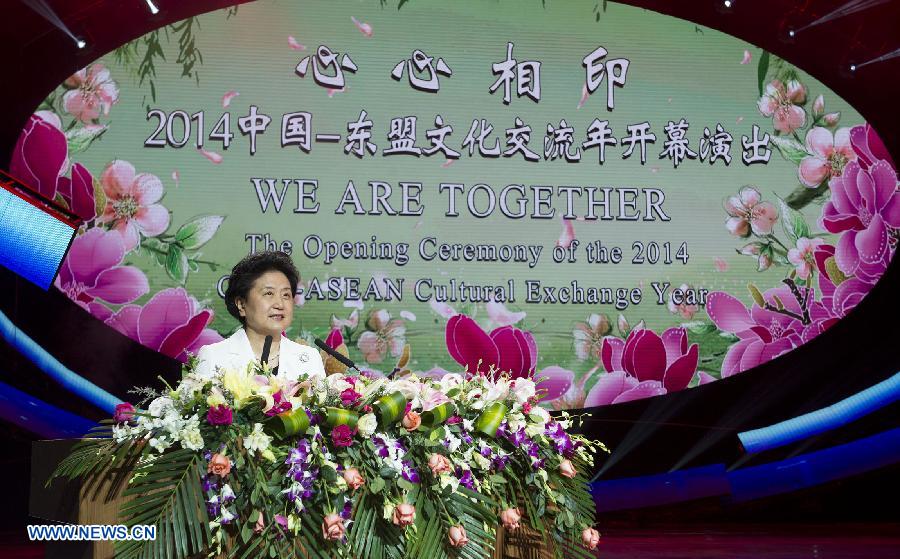 Chinese Vice Premier Liu Yandong addresses the opening ceremony of the 2014 China-ASEAN cultural exchange year in Beijing, capital of China, April 7, 2014. The 2014 China-ASEAN cultural exchange year opened here Monday. [Xinhua/Huang Jingwen]
Chinese Vice Premier Liu Yandong and Myanmar Vice President Nyan Tun attended the opening ceremony of the event.
Liu made a speech at the ceremony, saying it is of great significance for China and ASEAN to begin a new journey of their ties.
She said China is ready to enhance cultural exchanges to build a solid foundation for the two sides' cooperation and achieve a win-win result of their cooperation.
Prior to the ceremony, Liu held meetings separately with Nyan Tun and ASEAN Secretary-General Le Luong Minh.
We Recommend: