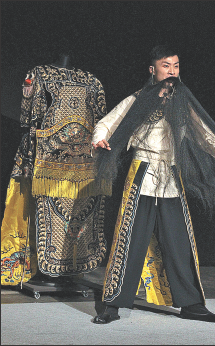 CHINA DAILY
Wang Lu delivers a virtuoso portrayal of all the characters.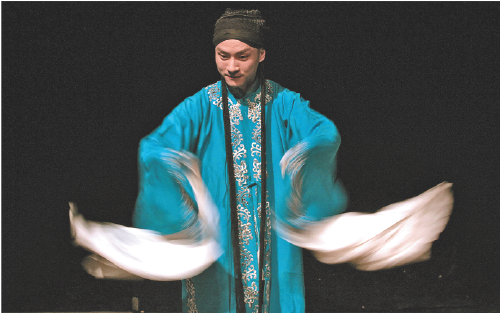 CHINA DAILY
Woyzeck is a combination of Peking Opera and classical Western tragedy.
When Wang Xiaoxin was pursuing her studies at the Yale University School of Drama in 2006, she hoped to become an avant-garde theater director. However, she ended up being obsessed with Peking Opera.
"One day I went to the public library at the Lincoln Center for the Performing Arts. A book about Peking Opera caught my eye," Wang recalls. "I became fascinated at once: the moves, the costumes, the philosophy-everything."
Wang, who graduated from the Arts Institute of Peking University and went to live abroad in 2003, previously focused on experimental dramas. She compared Western dramas with Peking Opera and realized the beauty of the ancient art form.
"My cultural aesthetics for Peking Opera exist in my blood and DNA. I decided to return to China to learn more about it," says Wang, who later worked at the China National Peking Opera Company for five years.
She is keen to explore new possibilities for Peking Opera. In 2010, she worked with her teacher, the leading Chinese theater director Lin Zhaohua, on his Peking Opera production The Minister Liu Luoguo. The same year, her own adaptation of Alexander Pushkin's tale Fisherman and the Fish into Peking Opera was a prize-winner at the 51st International Children's Festival in Sibenik.
After a successful premiere in Frankfurt, Germany, last year, Wang's latest brainchild, Woyzeck, a combination of Peking Opera and the classical Western tragedy, will be staged in Beijing on Dec 13 and 14.
Written180 years ago by German author George Buechner, the drama tells of a poor and lowly soldier's oppression by different authority figures in society. Woyzeck descends into madness and murders his girlfriend.
Wang Lu, an actor from China National Beijing Opera Company, delivers a virtuoso portrayal of all the characters, almost without words, drawing upon the rich vocabulary of gestures from Peking Opera.
"Woyzeck has been interpreted in various art forms and I have watched the opera and drama versions before," Wang Xiaoxin says. "It's been my long-standing dream to bring it to the stage in the form of Peking Opera."
After starting work on the script in 2009, she invited Wang Lu to join her. She has worked with the performer many times, including in Fisherman and the Fish.
As they developed the crossover show more deeply, Wang Xiaoxin realized that she needed to step away from it, so she invited German stage director Anna Peschke.
"Because I am too familiar with Peking Opera, I felt my imagination was limited," says Wang Xiaoxin.
"To break the convention, I invited a foreign director and I believe she will give a fresh and interesting result to the cross-cultural experiment."
As a director at the intersection of theater, performance and visual art, Peschke wants to show a contemporary version of Peking Opera, which is experimental, open and tragic.
"The content of the drama is the story of a poor soldier who is too weak to exist in the society. I see a link to our society: We suffer from a lot of pressure and we have to find ways to deal with it, and not to end in a desperate or even tragic situation," Peschke says.
The premiere of the show was successful. "The audience admired Wang Lu's skills, his strength of expression and his persuasive change of the characters," the director says.
Wang Lu, who started learning Peking Opera at the age of 13, plays wusheng, a male martial-arts role in Peking Opera. When he first saw the script, he was captivated by the idea of mixing Western classical work with Peking Opera.
"In Peking Opera, various body movements portray characters and advance the story. I used the same way to act different roles in Woyzeck," says the 32-year-old actor.
"With hundreds of years of evolution and development, Peking Opera is more than just a tradition but an art form, which keeps progressing."
His performance is accompanied by experimental live music from Bruce Gremo, composer and flutist, who moved from New York to Beijing in 2006.
The most challenging thing for Gremo is to learn Wang's habits as a Peking Opera actor.
"There are traditional techniques of cuing, coordinating, and anticipating between sound and movement. It means that I must follow him very closely, watching and playing at the same time," he says.
"What is interesting for me here, where everyone is already experienced at crossing genres, is that the blends are rich enough that you really start to have the sense of new forms, not simply the first introduction between strangers," he says.
IF YOU GO
7:30 pm, Dec 13, 14. Star Theater, Chaoshou Hutong, 64, Xuanwumennei Dajie, Xicheng district, Beijing. 400-010-1889.
We recommend: