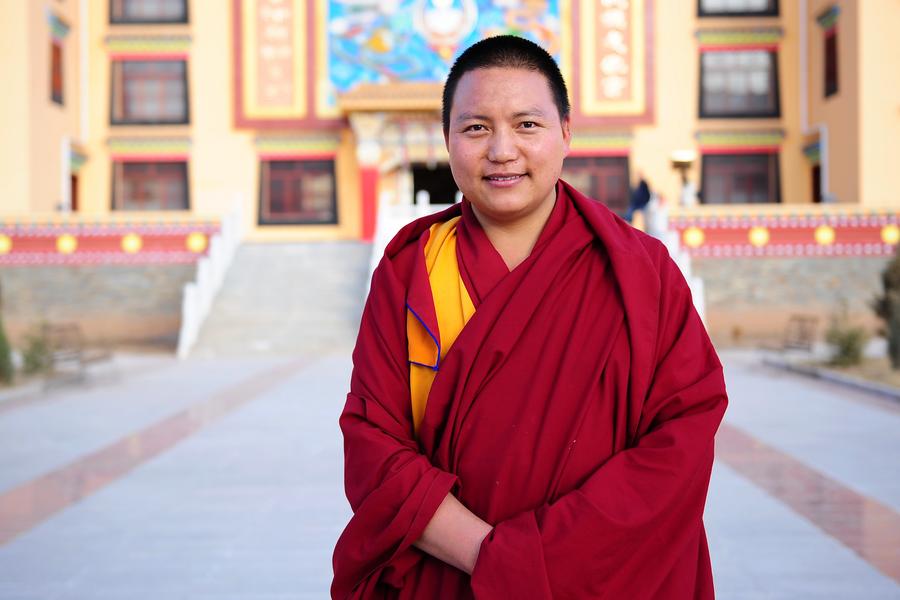 Gazang Jiacuo, a Tibetan monk and Thangka painter, is the founder of Regong Ethnic Culture Palace. The photo was taken on March 18, 2014. [Photo / Xinhua]
To expand the influence of traditional Tibetan Thangka painting, a 33-year-old Tibetan monk has sold a house and collected more than 30 million yuan ($4.83 million) to build a cultural palace in Northwest China's Qinghai province.
At the Regong Ethnic Culture Palace in Regong (or Tongren), children can learn how to paint Thangka for free. They can also learn the Tibetan and Chinese languages, math and English for free. Regong is known at home and abroad for being home to many masters of Tibetan traditional arts.
A thangka is a unique style of Tibetan painting on cotton or silk appliqué, usually depicting a Buddhist deity, scene, or mandala of some sort. Generally, thangkas last a very long time and retain much of their luster, but because of their delicate nature, they have to be kept in dry places where moisture won't affect the quality of the silk. Although it enjoys a long history, it's not known to many people.
Gazang Jiacuo, born in the 1980s, studied Thangka painting for 17 years and is now honored as an intangible cultural heritage inheritor in Qinghai province.
"It is the long-held dream of my family and me to build such a palace, which houses Thangka, children, and many outstanding artists. We want to paint more Thankas, and display the beauty of Thankas to more people," Gazang said.
His Thankas sell for tens of thousands of yuan at the minimum, with one piece selling for up to 1.7 million yuan.
The palace covers more than four acres and accommodates more than 100 children. They are given free accommodation and clothing.
Gazang Jiacuo's family suffered greatly by building the palace. They sold their house, used up their savings and borrowed a lot of money from relatives and friends. During the three years it took to build the palace, the entire family helped. His mother, who is in her 60s, was sent to hospital for exhaustion at the construction site.
Finally, his dream came true. Gazang Jiacuo believes building a palace and teaching children is just the start to fulfilling his dream.
We Recommend: