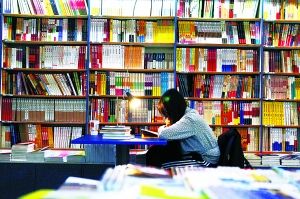 The Sanlian Taofen bookstore kicked off an event called "Readingthroughout the Night," which provides readers the chance to read and communicate throughout the night while never having to leave the bookstore.
The bookstore is owned by China Publishing Group and the store announced on Tuesday that it would offer a 10-day trial by staying open 24-hours a day through April 18. They said if everything goes smoothly the store may never close again.
Manager Zhang Zuozhen said 3 million yuan (480,000 USD) has been invested in the bookstore. The news of the two-week event has been met with warm praise from Internet users.
The bookstore's general manager Fan Xi'an, said the bookstore's 24-hours a day operations is an attempt to pursue the social benefits of reading and broaden its brand influence.
Fan also said that apart from the prolonged operating time, the bookstore's interior layout will also be readjusted to create an atmosphere suitable for those who like to read at night.. Meanwhile, various activities will be held to enrich night sales and launch cultural products with their own distinctiveness and creativity.
According to a survey by theChineseAcademyof Press and Publication in 2013, Chinese people read 4.39 books per capita in the past year, a figure that trails far behind major developed countries. The reading rate has dropped from 60.4 percent in 2000 to 54.9 percent in 2012.
Established in 1996, the bookstore is in downtownBeijing's Dongcheng District.