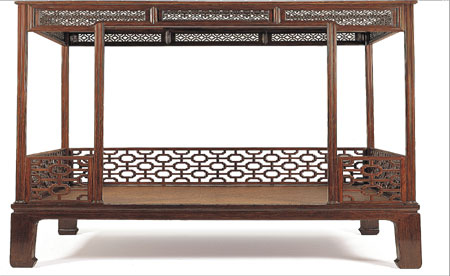 Simple elegance is the hallmark of Ming-style furniture, and a new exhibition in Beijing offers a rare chance to see this ancient craftsmanship, Lin Qi reports.
The late scholar Wang Shixiang (1914-2009) visited a Ming-style furniture exhibition in Hong Kong in 1994. He wrote a poem to express his impression:
"A choice collection, sublime and divine. But a momentary parting, what accomplishment before my eyes."
The exhibition was mounted by Wang's friend Grace Wu, a collector of Ming-style furniture, at the Grace Wu Bruce gallery that she opened in 1987. The space specializes in dealing Chinese furniture of the 16th and 17th centuries, and was given its Chinese name, "jia mu tang", literally meaning the hall of refined wood, by Wang, an acclaimed connoisseur of antique furniture.
To commemorate the centennial of Wang's birth, Wu has assembled 50 sets of Ming-style furniture for display at the Today Art Museum. She chose the first two verses of Wang's poem as the theme.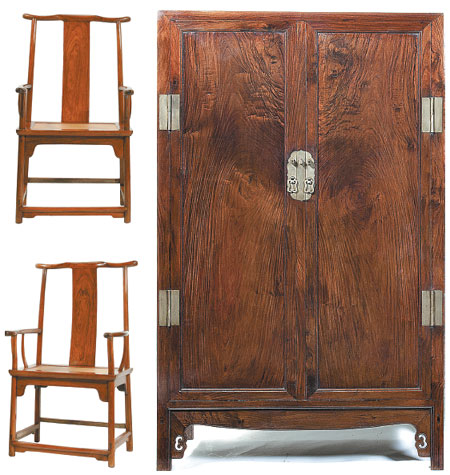 Perfection of Life displays some of the country's finest antique furniture, including a huanghuali canopy bed (top),a pair of huanghuali high yoke-back armchairs and a corner cabinet.

The display is part of an exhibition titled Perfection of Life held by China Guardian Auctions. It juxtaposes the centuries-old wooden furniture with 20 oil paintings by leading contemporary artists, such as Xu Lei, Ji Dachun and Jia Aili.
"It can't be more appropriate to pair the Ming-style furniture with these paintings. The furniture's refined glow and the paintings' vibrant colors coexist in harmony," says Qiao Hao, head of Guardian's furniture department.
Wang, a founder of the study of Ming-style furniture, wrote several books about his research of classic Chinese furniture carpentry and design. His definition of the Ming-style furniture refers to those made of valuable wood during the late Ming (1368-1644) and early Qing (1644-1911) dynasties.
"The furniture was not massively produced but made to order for an individual. Scholars were fully involved in the design process and the furniture pieces differ from one another in measures and details," Qiao says.
A Ming-period sloping-stile and wood-hinged cabinet on show represents ingenious design and excellent woodwork.
The four legs slope slightly outward to give the cabinet an "A" shape - and a sense of balance and stability. The cabinet is elevated off the ground to keep the books inside away from humidity.
We Recommend: