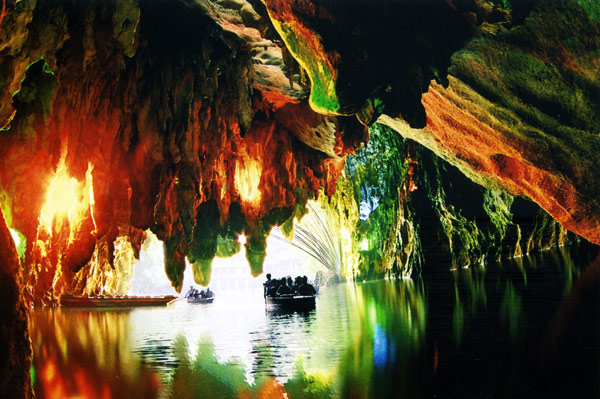 Visitors take a boat trip through the Dragon Palace, a natural karst cave with stalactites.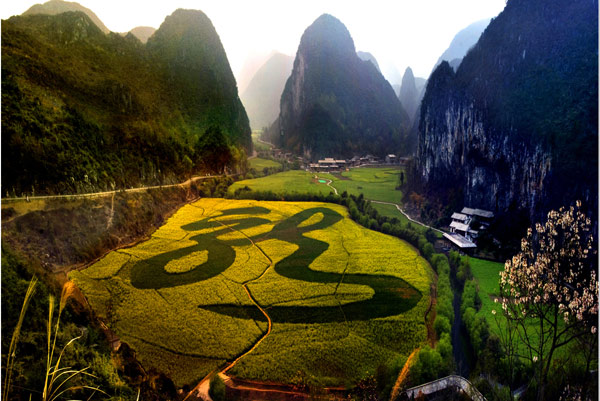 A rape flower field resembles the Chinese character long, meaning dragon, in Anshun, Guizhou province.

The beauty of the rape flower can be enjoyed in southern China, but a rape flower field planted to resemble the traditional Chinese character long, meaning dragon, can only be seen in Anshun, Guizhou province.
March and April are the best months to visit Guizhou to enjoy the blossoming flowers along the road to the area.
Anshun is already well known as the home of Huangguoshu, the biggest waterfall in China, but fewer people know about the Dragon Palace, a natural karst cave with fantastic scenery. The Dragon Palace is hosting a Rape Flower Tourism Festival, which opened on March 22, to attract photographers as well as residents to visit. This year's event runs for one month.
Anshun is 90 kilometers from the provincial capital of Guiyang. In Anshun, rape flowers are in bloom. The scene looks like a sea of golden flowers.
Rape flowers' bright colors, accompanied by sunshine and blue skies, create a beautiful scene.
Close to the Dragon Palace, the Chinese character long is written in the rape flowers and broad beans. The design of this dragon-like shape is based on the cursive script by Huai Su, a famous calligrapher in the Tang Dynasty (AD 618-907).
The local government began to plant the flower field in 2008 and took one year to arrange the rape and broad beans so the dragon-like shape would be vivid, according to Chen Huaping, an official of Longgong county.
"We gave each farming household 680 yuan ($110) per mu (1 hectare equals 15 mu) as rent and planting fee, and taught them how to plant the field. So, many farmers were willing to cooperate with us to make the scene more beautiful," Chen says.
With the annual income increase of 2,000 yuan, 25 percent of farmers in Xuantang village are planting rape.
Song Shoufu, a local villager, has planted rape for six years and he now plants the hybrid rape which could make his annual harvest double.