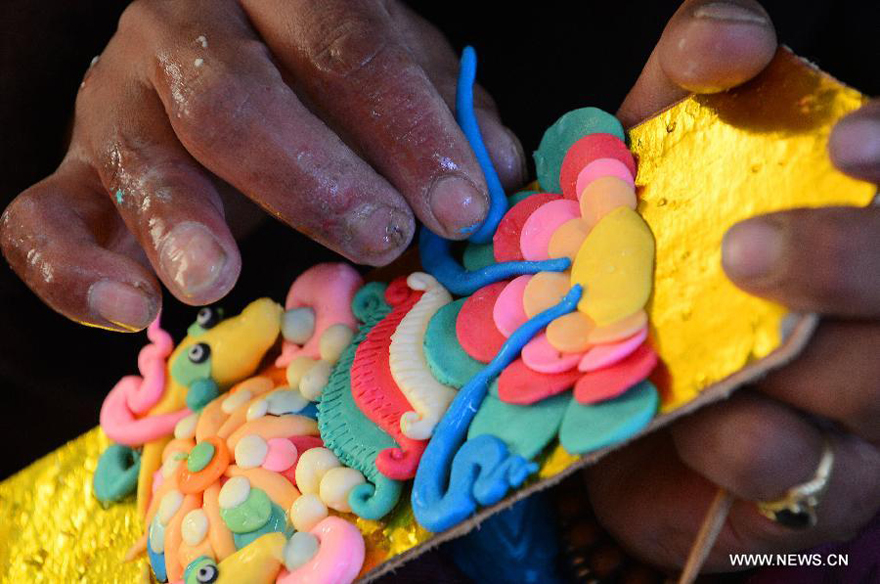 A craftsman makes a butter sculpture in Kangxung township of Rinbung county in Shigatse, Southwest China's Tibet autonomous region, March 27, 2014. There are about 100 butter sculpture craftsmen in Kangxung because of the growing need in market. Butter Sculpture is an ancient and unique genre of art in Tibet which was listed as a national intangible cultural heritage by the State Council in 2006. [Photo/Xinhua]
For the last 400 years, Tibetan monks have been using butter from yak milk to create large and intricate sculptures inspired by stories of Buddha, animals or plants and putting them on display during the annual Butter Lantern Festival.
It is said that in 641, when Princess Wencheng of the Tang Dynasty was married to the then Tibetan King Songtsan Gambo, she brought with her a sculpture of Sakyamuni, which was later enshrined and worshipped at the Jokhang Temple. To show their respect, the Tibetan people presented offerings in front of the Buddha. According to the traditional customs observed in India, offerings to Buddha and Bodhisattvas were divided into six categories: the flower, Tu incense, divine water, Wa incense, fruit, and the Buddha light. By that time, however, all of the flowers and trees had died, so instead the Tibetans made flowers from butter.
We Recommend: