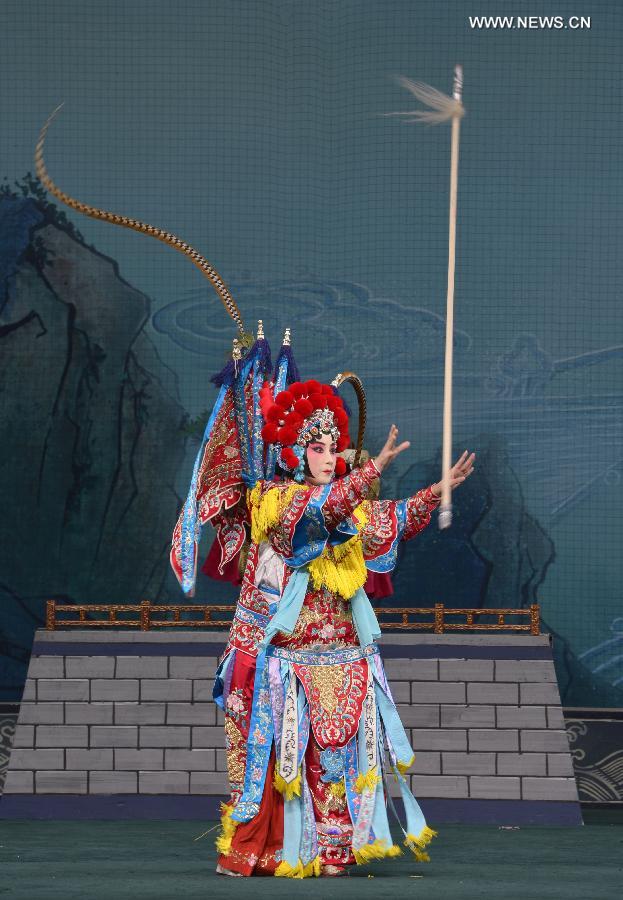 Actress Li Hongyan performs Peking Opera during a preview for media at the Kennedy Center of the Performing Arts in Washington D.C. Aug. 27, 2014. The contemporary artistic descendants of China's Peking Opera master Mei Lanfang Wednesday evening staged a gala performance at the Kennedy Center in Washington, bringing people a chance and an access to understand and enjoy the ancient Chinese opera art.[Photo/Yin Bogu]
Only a few women performed Peking Opera 100 years ago, but now most artists of Mei School at Mei Lanfang Peking Opera Troupe are women.
Mei Baojiu's students, who performed during the New York and Washington tour, include four women and one man, said Li Enjie, director of Beijing Peking Opera Troupe, adding that "Mei Baojiu teaches them all Mei Lanfang's characteristic works, so they can perpetuate themselves."
Performers of Peking Opera, which first came into being in the late 18th century, must hone four skills: singing, dancing, acting and martial arts.
Mei Lanfang Peking Opera Troupe has modernized its performances in the 21st century with high-tech lighting, sound and English supertitles to help more people understand the ancient art style, Li said.
Cui Tiankai, Chinese ambassador to the United States, watched the performance and said that Mei Lanfang's tour of the United States 84 years ago started an effort to bridge the cultural differences between the East and the West.
This year marks the 35th anniversary of the establishment of China-U.S. diplomatic relations, Cui said, adding the tour will help further promote culture exchanges between the people of the two countries.
We Recommend: