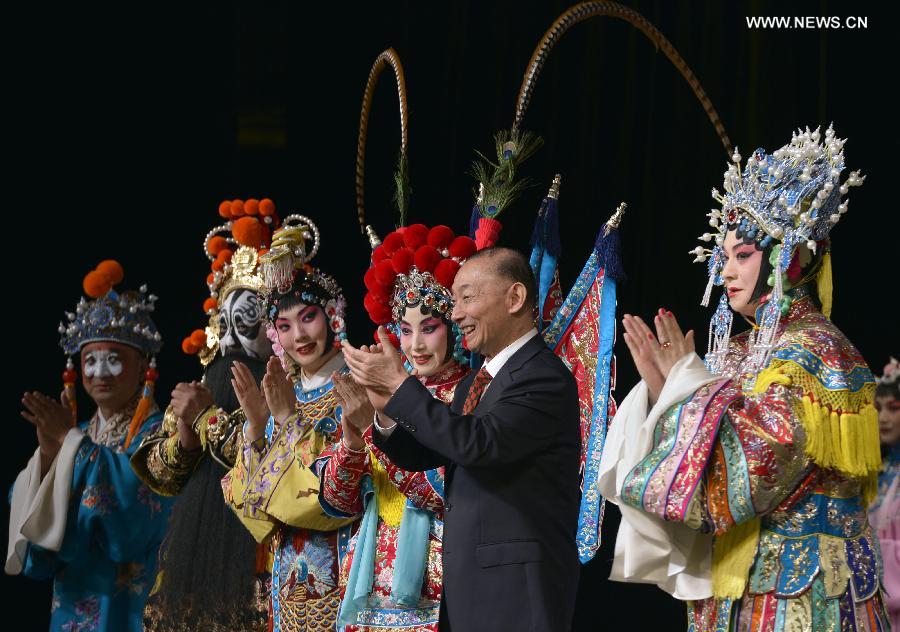 Mei Baojiu, Peking Opera artist and son of Chinese theater legend Mei Lanfang, takes curtain calls with actors and actresses after performance at the Kennedy Center of the Performing Arts in Washington D.C. Aug. 27, 2014. The contemporary artistic descendants of China's Peking Opera master Mei Lanfang Wednesday evening staged a gala performance at the Kennedy Center in Washington, bringing people a chance and an access to understand and enjoy the ancient Chinese opera art. [Photo/Yin Bogu]
The contemporary artistic descendants of China's Peking Opera master Mei Lanfang staged a gala performance at Kennedy Center in Washington Wednesday evening, bringing the audience closer to the ancient Chinese opera art.
Chinese artists from Beijing Peking Opera Troupe and Mei Lanfang Peking Opera Troupe, which is run by Mei Baojiu, son of Mei Lanfang, staged excerpts from five operas based on classic plays of the Mei Performing School. They will perform the whole play of "Lady Mu Guiying Takes Command," a masterpiece of Mei Lanfang, on Thursday at Kennedy Center.
Peking Opera, which is regarded as a quintessence of the Chinese culture and is known for its lavishly embroidered costumes and colorful makeup, has evolved into the most representative and most influential stage art in China and is now best known as the "National Opera."
The tour of the art troupes, which were in New York last week, marks the 120th anniversary of the birth of Mei Lanfang, known as one of the greatest Peking Opera reformer and educator. He died in 1961.
Mei Lanfang was also the first Chinese actor to present Peking Opera outside China. He toured the United States in 1930, visiting New York, Chicago and San Francisco.
Top performers of Peking Opera in China are following Mei's footprints by taking a tour at home and abroad.
Mei Baojiu, who is now 80 years old and has over 50 years of stage experience, has passed his father's spirit and techniques on to his students, both male and female, and also performs during the current tour.
He has carefully selected disciples to present his father's masterpieces to the American people.
"Mei School Peking Opera represents an important art system featuring the spirit of Chinese opera culture, as well as the stage art and performance work. All opera works of Mei School consist of comprehensive cultural concepts such as story, acting, singing, dancing and etc," he said prior to the show.
We Recommend: